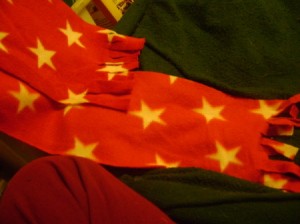 I have made beautiful red scarves out of the fleece from the remnant bin at Walmart. I thought this pattern and design might be beautiful and I was right!
I dearly love to make fleece scarves, and I wear them all the time because they are so soft and warm. I buy the yard remnants and I was able to make five scarves out of a remnant that cost less than five dollars.
A good tip would be to buy a new pair of scissors each year that you plan to make scarves. The kids wear out my scissors, so it is easiest to buy a cheap but new pair of scissors.
I fold the fabric in half and cut the scarves as wide as I like to have them. They are all a yard long. I like to make the wider scarves. I have made less wide ones, but the wide ones are warmer and more popular!
Then I cut the fringe on each end. I like my fringe to be as long as my index finger at least. I don't really measure, I just estimate it from sight.
The scarves they sell at Walmart are beautiful, but we chose to buy fancy hats and make our own scarves this year. Fleece from the remnant bin is so warm. The scarves for sale at Walmart are not as warm as the ones I make, they are more for fashion.
I saw on here how a reader made a felt flower she planned to put on her fleece scarves. I am going to do that also. Soon I will make pink scarves for Valentine's, although I might have to buy the pink fleece.
By Robyn from Tri-Cities, TN