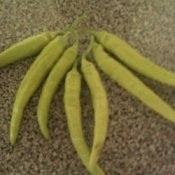 I am a first time gardener and I have have an overabundance of jalapeno and sweet banana peppers. I am looking for a good recipe to can them.
By June
August 7, 2013
0

found this helpful
I had the same situation and used a "quick canning" recipe I found on the Food Network site. I was very pleased with the results. I had some red chili peppers and I added a few slices into each jar to give them some "kick" and was very pleased with the results.
September 18, 2009
0

found this helpful
I need a recipe for canning mild or sweet peppers. I have four plants and I have a lot of peppers. They are the long sweet peppers.

Darlene from MS
Answers:
Recipes for Canning Peppers
I don't know about canning them, but I'd just freeze them. (06/19/2008)

By Glenn'sMom
Recipes for Canning Peppers
Here is a recipe I got from a girl I work with. I have never made this, but she gave me a jar she made and it was outstanding. You can make it hot or mild depending on what type of pepper(s) you use. It makes a chunky jardinere that's excellent on a beef sandwich.
Slice jalapeno peppers, carrots, onions, celery (any other vegetables you wish to add) into large ceramic bowl.
Boil 2 parts water to 1 part vinegar and pour over mixture (enough to cover vegetables).
Weigh down with brick for 12 hours.
Drain liquid and pour mixture back into bowl.
Add oregano (to desired preference) and stir.
Add mixture to clean jars.
Add clove of garlic to each jar.
Fill jars with oil to cover mixture.
Keep refrigerated. It can be kept up to a year.
She weighs it down by putting a plate on top and then uses a brick to hold it down. (06/20/2008)

By Mary Moo
Recipes for Canning Peppers
I can peppers every year and I always use the same recipe for all peppers sweet or hot. I'm doing banana peppers now.
6 cups of water
2 cups of white vinegar
1/3 cup of salt, I always use coarse
Put the peppers in hot jars. Boil water, vinegar, and salt for 10 to 15 minutes, stirring. Pour over the peppers and seal. (09/05/2008)

By maggymay3
Recipes for Canning Peppers
I grate cabbage, put oil and salt in and also grated onion. Stuff Banana peppers. Put in jars and make a brine of 1 part vinegar and two parts water. Put in a pan of very hot water and leave until water cools. Put one clove of garlic in. This is also good if you put in a hot pepper. (09/08/2008)
By Steve mom