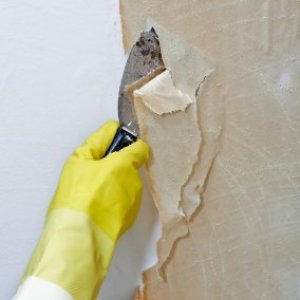 Whether you did the deed yourself or inherited wallpaper that has been painted over, you have a chore before you. This is a guide about removing wallpaper that has been painted.
Ad
---
Questions
Here are questions related to Removing Wallpaper That Has Been Painted.
I have fiberglass wallpaper in my kitchen. It has been painted with either oil or water-based paint. How do you remove it? I imagine that this must be a common problem since this type of wallpaper is absolutely everywhere.
By Charles from Oslo, Norway
AnswerWas this interesting? Yes No
Ad
---
---
Most Recent Answer
By Sandi 7 182 07/30/2010 Flag
I would say you have a very nasty job ahead if you must take this paper down. Is it firmly attached to the wall in all places? Like no loose pieces etc. Are you painting over it, or redoing with more wallpaper? What is fiberglass wallpaper? I live in the states and the only fiberglass I know is used for insulation. You need to wear a mask and gloves when using this stuff. If I were you, I would paint or paper over it as long as the paper was in good shape, not loose. What is behind this for walls? You run the risk of seriously damaging them if the paper pulls pieces off. I once tried to remover wallpaper and took out pieces of the wallboard. These walls were not plaster coated so this was why it happened. Any way it was fun work fixing the damaged wall. Can you go to a local paint/wallpaper store and ask for advice? Good luck with your project!
Solutions: Removing Wallpaper That Has Been Painted
Do you have knowledge about this guide topic? Feel free to share a solution!
Archives
Thrifty Fun has been around so long that many of our pages have been reset several times. Archives are older versions of the page and the comments that were provided then.
I find this newsletter and its readers' tips and replies so helpful. I was wondering if anyone can tell me how to remove wallpaper from a bathroom which has been painted over? The few pieces I tried to remove damaged the wall board.

I want to strip the walls, prime and repaint. Do I need to remove the paint first? It appears someone tried to Spackle over the wallpaper prior to painting, but did a poor job. It looks all lumpy. I'll try anything, but can't afford to have it done professionally.

Thank you in advance for your tips.
Debbie
Feedback:
Removing Old, Painted Wallpaper
Wallpaper is typically removed by wetting it down or steaming it. But the water won't penetrate if the papered wall has been painted. Remedy this by scratching through the paint with very coarse sandpaper or a wire brush; slashing a grid of cuts into the surface with a utility knife; dragging an old hacksaw blade sideways across the walls; or using a wallpaper scratcher made for the purpose and available at hardware stores.

Before scraping off old wallpaper, spray it with a solution of hot water and about a tenth as much clear (distilled) vinegar. Use a plant mister with a big, comfortable squeeze handle.

By joesgirl (07/14/2005)

By ThriftyFun
RE: Removing Painted Wallpaper
This is probably highly unlikely, but if the paper was put on the dry wall without painting, there is nothing you can do, but make a mess of trying to remove the paper. Then worry about repairing or replacing the dry wall.
I have heard of this happening, especially where a homeowner may have made some renovations and tried to take shortcuts. (07/16/2005)

By Syd
RE: Removing Painted Wallpaper
I have never tried this on painted paper, but warm water mixed with fabric softener such as Downey takes it up well for me. It also leaves a lovely scent. (09/22/2005)

By Christined
I bought a big foreclosure home with a little age (45 years). I have been here 3 1/2 months and the fun keeps coming. This one is too much fun for just me, so someone please join me.

I need some tips on removing wallpaper in my kitchen that has 2+ layers of paint and some Spackle on it. I tried to take the easy way out and just paint over it, but every spot I spackled just bubbled up. Bring your guns, I'm not afraid to work.
By Bruce from SC
Feedback:
RE: Removing Painted Wallpaper
(NAPS) Redecorating a home can be an exciting process for many homeowners. However, many dread the process of getting started when they first have to remove old wallpaper. Fortunately there is a simple solution: a wallpaper steamer.

Wallpaper steamers can be as easy to use as an iron or garment steamer, and they allow do-it-yourselfers to quickly remove old wallpaper and begin decorating the room of their dreams. Simply fill the wallpaper steamer with tap water, plug in and steam away. No buckets, brushes, rollers or mixing needed.

Compared to chemical wallpaper removal products, wallpaper steamers are faster, safer and are effective on all types of wallpaper, including vinyl, painted wallpaper, and multiple layers.

Wallpaper steamers require about 20 minutes to warm up each time the tank is refilled (generally, two tankfuls will do a 10 foot x 12 foot room). During warm-up time, the user can prepare the walls by using the edge of a scraper or running a special wallpaper "scoring tool" over the wall to create perforations in the paper. This will allow the steam to penetrate the vinyl or multiple layer wallpaper. Scoring tools and scrapers are sold at home improvement, hardware, and paint stores.

Once the steamer is warmed up, the steam plate is held over a section of wallpaper for about 15 seconds. When the wallpaper is damp, the user scrapes off the paper with one hand, while the other hand works ahead with the lightweight steam plate to soak the next section of paper. It is a continual process. Since there is no need to coat the wall with chemical solutions, which can be runny, the workspace is left clean.

Wagner Spray Tech offers its Model 705 Power Steamer for around $49. It comes with an 8 inch x 11 inch steam plate and 11 feet of hose. When compared to other wallpaper stripping alternatives, the Power Steamer is very economical. If the leading chemical stripper is used to remove wallpaper from a 10 foot x12 foot room, the gel and required equipment will retail for $28 to $32. If a power steamer is rented, the daily rental rate will be $20 to $25 and the unit will, most likely, be heavy and difficult to maneuver.

The Wagner Power Steamer provides fast, chemical-free wallpaper removal in a lightweight, portable unit that can be used over and over again. Good luck. (01/26/2010)

By kffrmw88
RE: Removing Painted Wallpaper
If you've already tried DIF, you may have to use a flat tool to pry some of it off. Hard work, I know, but it will be worth it in the end. Take pictures, as you'll quickly forget what it looks like. (01/27/2010)

By Allison5