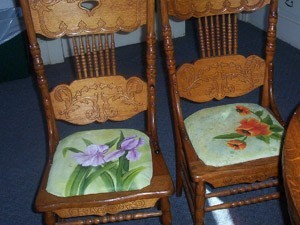 By Donna from Newell, IA
Feedback Forum
Feedback about this article is posted here. Want to contribute? Click above to post feedback.

By Lee [22]06/10/2009
Beautiful artwork! You are very talented! Thanks for sharing with us.

By Marjorie C. Woodworth [82]06/02/2009
Donna,

Did you really paint the beautiful flowers and the swan on the chair?

You're extremely gifted, and you did a beautiful job!!

By jan king [1]02/06/2009
Your chair is gorgeous! What a nice job!

Grandma Jan

By Jacquelyn Valentine [11]01/30/2009
This chair is magnificent! I too recovered some antique chairs, although they weren't cane seated. I did have to change out the wood seat and then cover them. But I have to say, they weren't as pretty as this. You did a wonderful job!
Post Feedback
Add your voice to the conversation. Click here to share feedback.