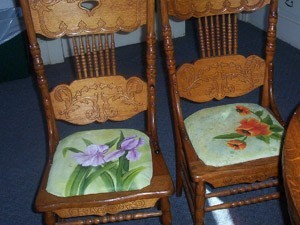 I have redone my antique dining chairs from caned seats to padded fabric seats without altering the cane part by cutting plywood seats that are slightly larger than the open area of the seats and adding thick blocks of wood with window hardware that turn to give a positive leverage under the wooden frame. I then cut foam padding and canvas and upholstered the plywood. I painted the canvas first. You could use any fabric of your choice. I varnish the canvas for wipe-ups.
By Donna from Newell, IA
By Donna
Ad
---
By Jacquelyn Valentine 13 193 01/30/2009 Flag
This chair is magnificent! I too recovered some antique chairs, although they weren't cane seated. I did have to change out the wood seat and then cover them. But I have to say, they weren't as pretty as this. You did a wonderful job!
By mcw 80 1,752 06/02/2009 Flag
Donna,

Did you really paint the beautiful flowers and the swan on the chair?

You're extremely gifted, and you did a beautiful job!!
Beautiful artwork! You are very talented! Thanks for sharing with us.