Craftsman LT 1000 Riding Mower Won't Start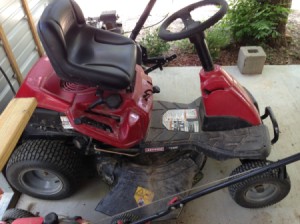 Determining the reason your riding mower won't start is the first step towards making the necessary repairs. This is a guide about
Craftsman LT 1000 riding mower won't start
.
Questions
Ask a QuestionHere are the questions asked by community members. Read on to see the answers provided by the ThriftyFun community or ask a new question.
I just finished cutting my lawn and the mower shut off and will not restart. I turn the key and nothing happens, not even a click. I haven't any idea what to do next. Anyone out there with any suggestions?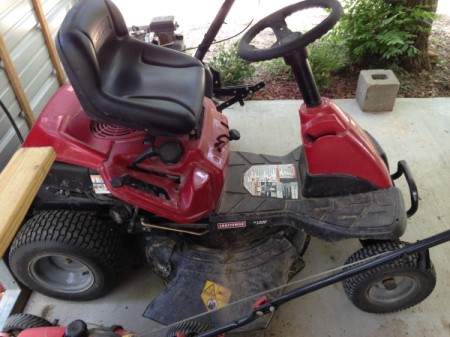 July 16, 2015
0

found this helpful
Best Answer
Clean the negative post and clip on your battery.
May 22, 2016
1

found this helpful
I have the same issue with my mower. Did this work? Mine is less than a year old.
March 27, 2016
0

found this helpful
Check the seat switch and fuse
I have a Craftsmen rider Lt 1000. My problem is I charge my rider and it starts and when I shut it off I have to charge it again. I have to do this every time. What causes this?
June 24, 2017
0

found this helpful
Your alternator or voltage regulator may need replacing.
March 27, 2015
0

found this helpful
I have a Craftsman LT1000 that won't turn over. I've checked the battery, it is showing 12 volts. I changed the switch and the solenoid, it made two clicks and then nothing.
By David
January 27, 2017
0

found this helpful
Check out the valve Clearance, this engine have the tendency to need an adjustment from time to time.It happens to my LT 1500 with the 17.5 engine.
March 16, 2015
0

found this helpful
My Craftsman lsx1000, 31 hp mower will run good, but will not start unless I turn the flywheel. What is wrong?
By Melissa from Crab Orchard, KY
May 22, 2017
0

found this helpful
Sounds like the flywheel or the teeth to the started might be missing sum teeth.
I have a Craftsman LT1000 and it will turn over, but never starts. It sounds like there is no compression. There is oil is in the cylinder. Could my piston rings be bad?
By jammer1 from Franklinville, NJ
April 21, 2011
0

found this helpful
Had old lawnmower that would not start. Went to Oreillys auto and purchased start my engine under $7 dollars. Poured half in, it started and runs fine. It was a back up mower attempted to start it for the last 3 years it's a Toro so I did not want to throw it away. Main lawnmower ran with a shake so poured the other half in it, mower runs smooth. Might not work for you, but is not expensive little work (do not have to remove old gas) and cheaper than paying someone to look at first. Good luck.
I have a Craftsman lt1000 lawn tractor. I was having a hard time starting it. The battery was dead sometimes so we replaced the battery and it was working great for almost 10 times of starting it. I tried starting it today and there's nothing, not even clicking. I tried jumping it and still nothing. Does anyone know what it could be or where I should start to troubleshoot it? Thanks.
Related Content
In This Guide
Categories
Guides
More
Categories