When I saw the funny cats that DH found at a yard sale they made me laugh. Now I want to show you the backs of that little treasure. What the pictures didn't show was the one wearing the towel around it's neck is wearing an earring too. So I smile coming and going.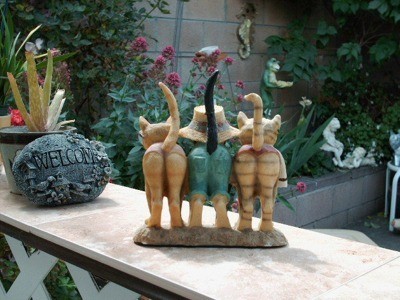 Comments
Add your voice! Click below to comment. ThriftyFun is powered by your wisdom!
DH yard sale find makes me smile. A Saturday morning surprise when DH came home with this funny trio. Just one of many from his weekend morning walks with Buddy.
Answers:
Funny Kittens Garage Sale Find
These are so adorable, Vi, and I am jealous! ;-) Thumbs up and you better give DH a big hug for that find :-) (05/10/2010)

By Deeli
Funny Kittens Garage Sale Find
I second the motion made by Deeli. He definitely deserves a hug. It just doesn't get any cuter than this trio of kitties... I'm a little bit jealous myself. If you get tired of them, I have an empty spot.

Thanks for sharing them,
(05/11/2010)

By PookaRina, Julia in Boca Raton, FL
Funny Kittens Garage Sale Find
Thanks, you two, you made me smile again. I have my morning coffee outside and those kitties are right there watching me. Sorry Julie,I need the smiles for now. I'll have Len look for more though. GG Vi (05/11/2010)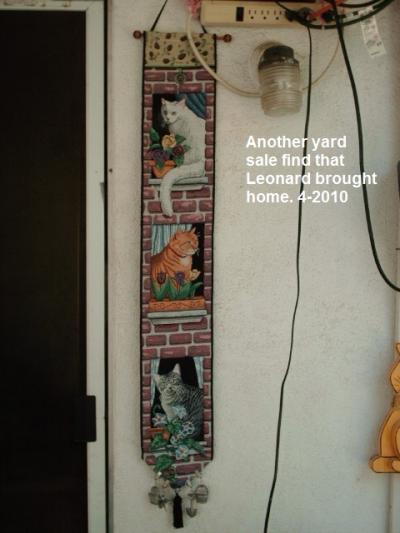 Funny Kittens Garage Sale Find
My husband is gone now but I remember fondly his unique yard sale finds.Thanks for sharing. (05/11/2010)
By keeper60
Funny Kittens Garage Sale Find
Had to give "thumbs up" - I'm so jealous. Both of your kitty finds are really great.

Cat people (05/12/2010)