I have a front room that is 12' long and 7' wide. The windows on the front 12' wall of the house take up the top half of the wall. I have no idea how to decorate this space, any ideas that would be efficient and cheap? Even just coming up with a layout for some chairs and what to hang on the walls would be a great help. Thanks.
By Cyinda 214 1,287 05/31/20090 people found this helpful
My idea is to buy some pleated window shades, the kind that go up & down (these dust themselves when you raise & lower them). Pick out a color that you like. (maybe beige) then have their color matched in paint for the walls. When the matching Verosol pleated shades are closed they will make the room look larger & less "broken up". Over the pleated shades you can also hang criss-cross lace, transparent curtains (if you like the Victorian or 1930's look) or use a solid color fabric. Or for a more modern or tranquil look, hang no curtains, just use the pleated shades.

As far as furniture, You can also put the couch across from the window, facing it. OR use 2 love seats facing each other each one facing the long end of the room (not facing the window, or a love seat & 2 chairs facing it with a small coffee table between. This seating would make the room look less "long".

Across from the large window(s) you could hang 3 or 4 prints of matching botanicals. These can be purchased cheaply at places like Ross or Target already framed & matted. Mark off your "living area" with a matching area rug. Rugs can also be hung on the wall as "tapestries". Rugs on walls work great in a tall, long or large room. If you like traditional decor, choose a "Persian" type rug. if you like a more modern decor, choose a geometric rug. With botanical prints, a rug with different leaves would be cool! For lighting, I like those pole lights that have a round end table attached. These take up little space & serve many functions. In a far corner of the room buy a silk tree from a second hand store & place an "up" light under it ($10 for the light at home depot). This will throw interesting shadows on the walls & ceiling!

As far as decorating colors. For a soothing room, stick to earth shades. Like the colors of wood, rocks, grass, leaves & water. Say for example for main colors you might choose golden-beige or gray-beige with an accent of olive green or sea-blue. The colors of nature are soothing & you can't go wrong with them. Bright colors are much harder to decorate around. Go to the library & check out a bunch of copies of home decor magazines. These will give you lots of ideas!
By jane 2 03/28/20100 people found this helpful
I would pull the furniture into the center and anchor it with a large area rug. Simple silk panels hung on big rods with clip on rings make nice window treatments. A large round decorative clock would look good above the fireplace. Put a large nicely framed mirror above the bombay chest in the lower left corner of the room and some sort of collection on the other side of the window (lower right side of the room). I have a collection of crosses grouped together, but anything you like grouped together will work. Hang tall/narrow framed artwork on the left and right of the entrance to the dining room and remember to hang all your art at eye level (not too high).

Pick two or three contrasting colors to use in the room. I like warm autumn colors like chocolate brown, paprika or pumpkin, sage green and harvest gold. I love to use fringed throws, decorative accent pillows, large black wrought iron candlesticks and colorful candles, urns, long necked glass bottles, bowl of decorative balls, unique lamps and oil paintings. All these things things are good garage sale finds and they give the room an old world eclectic (collected over time) feel. Other good reasonably priced sources are Ebay Big Lots, Luxury Linens, Ross, Kirklands, Hobby Lobby, TJ Max, Marshalls and Walmart. Use a variety of textures and patterns. Think comfort and luxury. Have fun!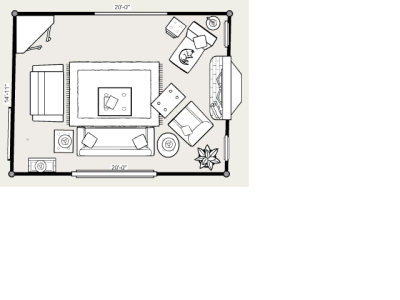 I am stuck redecorating a living room. I have a living room with a fireplace, 2 long windows on either side of the fireplace, a wide doorway to the dining room and another doorway to the front hallway. I also have 3 large windows on the front wall. I do not have any walls that are over 3 feet, that are not broken up by something (doorway, fireplace, windows).
So that makes decorating very hard. But I need to so something, I am very tired of looking at the same old placement of furniture. I am in the process of scouring used furniture places for pieces I can do something with. But I need help, I have run out of Ideas.
Please help.
Derina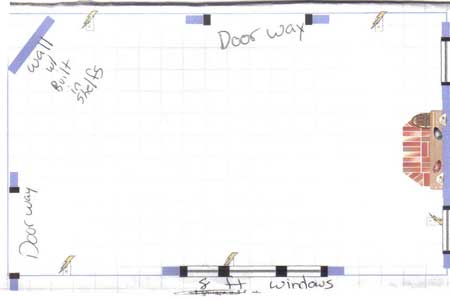 ---
RE: Need Help Decorating Living Room With Numerous Windows And Doors
Since you have a lot of windows be sure to make the most of your window treatments and of the fireplace area, too. Also, I would use small wall tables with lamps to brighten the areas, so it draws the eye away from the middle of the room. Also, small curio cabinets work great. I would arrange my furniture around my fireplace with a sofa in the middle, two chairs on each side, a rug in the middle and a sofa table on the back of my sofa. (01/05/2005)
By kji
RE: Need Help Decorating Living Room With Numerous Windows And Doors
I assume the "path" between the doorways is used, so avoid furniture there. Rooms like this, (I had one too), always look bitty and cluttered so less is more when decorating. I see your longest run of wall is around the corner where the fitted shelves are, do you need these shelves? They basically use up all this corner for very little storage or display space. Either fitted shelves with a cupboard which follows the L of the wall or a piece or two of enclosed furniture there would look neater, maybe an armoire or cupboard. This is your most versatile wall area and it seems wasted at present.
Paint door and window architraves the same colour as the walls to minimize their appearance. They will appear to fade back into the wall and the wall won't look so "chopped up".
My room was also small with 2 windows, 4 doors and a corner fireplace. I maximized space by having 2 sofas set at a 90 degree angle with a coffee table at the apex. They sat along the edge of a rug which defined the seating area. So they were placed in an L arrangement around one corner of the oblong rug, if that makes sense. At one stage I also had small low tables at each end of the L placed sofas as well. Your arrangement could sit on the edge of a rug in front of the fireplace, probably facing the window and then your TV could go in the corner, so the light from the window doesn't fall on the screen.
Does the room have any other function? If not, I would go with the seating area, one or two enclosed cupboards in the "shelf corner" and keep other furnishings to a minimum. Using lots of small tables or cabinets in the small spaces between doors and windows will just emphasize them. A long low piece of furniture, if you have any space under the front windows will draw the eye along in a continuous run. In my last house, a period cottage, I had wooden dado rails which also pulled the eye along the walls past the window and door breaks. I quite liked my small wall spaces in the end. I have a lot of old paintings and prints and they fitted nicely in the spaces.
My present lounge room is larger than my last one, but is similar with 5 doors, 3 windows, plus a wood burning stove in the corner. I have made my main storage and display area in one corner with fitted wooden adjustable shelving for book storage and china display. It is the equivalent of your shelf corner, but I have extended the shelving floor to ceiling and it continues over the top of the two doors, which is normally wasted space anyway. I have 2 other enclosed freestanding bookcases/cabinets in the room. I am planning for one new sofa by the woodburner, but because of traffic flow between the bedroom, bathroom, kitchen, and 2 verandas which all open off the lounge room, I have kept the centre of the room fairly clear.
Hope this gives you some ideas. Regards. (01/05/2005)
By Jo B.
RE: Need Help Decorating Living Room With Numerous Windows And Doors
Furniture doesn't need to be lined against the walls. As a matter of fact, that's quite boring. I would position a couch facing the fireplace aproximately 10 feet back. Put a nice area rug (that has some version of the wall color to make it pop) in front of the couch. In front of the couch I would put a long, low coffee table or over sized cushioned hassock.
Opposite the couch, situated caddy-cornered on each rug corner some kind of chair, either matching upholstered or one upholstered and one rocking chair. You may have to adjust couch distance. Or you could use those chairs for sitting areas by the windows by the fireplace. Use a small table, table light and maybe a low standing plant in each corner. Lamps do not have to match and just need to be like-themed.
Behind the couch you could put a table slightly lower than the height of the couch and not quite as wide as the couch for letter writing, reading, game playing, etc. I would avoid anything but a laptop computer. No one wants to look at the wiring of a computer while relaxing on the couch. If you can't remove the built in shelves, put a small round table with two chairs for a Cafe' Library area.
Next to the doorway to the left of the shelving and on either side of the other doorway you could put a nice 3-4 foot fern type plant. To really make the room look lush, hang matching window treatments on your doorways, too. Don't hang higher than the top of jamb. Inside the the door jambs you could put either wood or wrought iron cornices. The doorway opposite the long window could have two fairly small mirrors on either side to reflect the natural light, unless this would cause light overload.
I don't know how high your fireplace is. If it's small in relation to the rest of the room consider framing it out with wide molding to make it really dramatic. Again use a color paint or stain that is complementary to the walls and rug.
You didn't give the footage on the room, so I'm not sure what to do under the large window, but hopefully, the ideas I gave will help spark your own imagination. Hope it helps. (01/12/2005)
By Fran Marie