January 30, 2011
0

found this helpful
http://www.yout … Machine&aq=f
Watch the videos on You Tube. If I were you I wouldn't waste my money. If you know how to knit, it is cheaper to buy knitting needles then to invest in a piece of junk.
February 2, 2011
0

found this helpful
MCW is right I have one and it will knit, but when you take the knitting off it will roll up into a tube. You have to sew the ends to another piece to make it lay flat. if one of the needles bend it will start to miss stitches.
February 2, 2011
0

found this helpful
I found a brand new one at Salvation Army for $7.00 but haven't gotten up the nerve to try it yet. You also could try Craigslist.
February 3, 2011
0

found this helpful
Thanks to all that have replied to my post, moonlady , you are so lucky! I have been checking mine quite often, we have a Sherriff's youth mart and a Salvation Army thrift shop where I live, I check it often and usually end up finding something useful there even if it isn't the knitting machine! leekelly or MCW, if you still have your machine and don't want them, would one of you be willing to part with yours? I still want to try it out, I've talked to several that just love the machine and still want one. So if you want to get rid of it, here I am, please let me know! Thanks again for your feedback!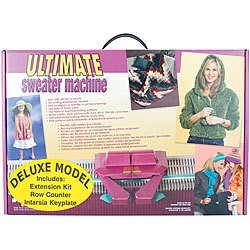 February 3, 2011
0

found this helpful
In case you didn't know, machine knitting will roll up because of the nature of the knit. I know nothing about the Bond machine, but I have several low end flat bed metal knitting machines and just love them. I do mostly flat work, afghans, scarves, etc. They must be steamed flat as do all garments that come from the machines. Go on ebay and find a real cheap one and try it out. Make some yarn strips and count the rows. Keep making them till they are wide enough to sew together for an afghan. Then go on ebay and try to find a metal one. It will cost more, but really worth the money. I now have a used Brother, bulky machine with a computer memory for a few hundred patterns. I also have a standard machine. It uses fine cone yarn. I love the machines. I have made over 55 afghan in the past few years.