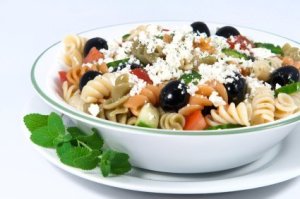 Cool pasta salads are a delicious summer or anytime meal. This page contains Italian pasta salad recipes.
Ad
---
Solutions: Italian Pasta Salad Recipes
Read and rate the best solutions below by giving them a "thumbs up".
If you would like to spice up this salad just add a teaspoon of crushed red pepper flakes.
Ingredients:
1 lb. Rotini, cooked, drained
4 cups broccoli florets cut into bite sized pieces
1 cup finely shredded Parmesan cheese
1 cup red bell pepper, diced
1 cup red onion, thinly sliced
1 cup pitted black olives, halved if desired
1 1/2 cups Italian salad dressing, or more to taste
Directions:
Cook pasta al dente according to package instructions, drain and place in a large serving bowl and let cool.
Add broccoli, Parmesan, bell pepper, red onion, and olives and toss well.
Add dressing, mix well, cover, and refrigerate for at least twelve hours to let the flavors meld.
By Deeli from Richland, WA
Ingredients:
2 lb. multi-colored Rotini, cooked
1 pint cherry tomatoes, halved
1 large cucumber, seeded and cut into small pieces
1 large sweet pepper (any color), seeded and cut into small pieces
1/2 small bag of baby carrots, cut into small pieces
1 large bottle Italian dressing (I prefer Kraft);
1/3 bottle Salad Supreme (in spice section of grocery store).
Directions:
Mix first 5 ingredients together in large bowl. Pour 1/4 of the salad dressing onto salad. Mix the Salad Supreme into the balance of the salad dressing, shaking until well combined.
Pour the mixture over the salad and stir well. Best if refrigerated for several hours or overnight until flavors meld together. Enjoy!
By Joyce from Gulfport, FL
Quick and easy Italian style pasta or macaroni salad
Ingredients:
Cooked pasta of your choice
Celery, chopped
Onion, chopped
Carrot, chopped
Hard boiled eggs, chopped
Pimiento stuffed olives, chopped
Canned tuna, drained, flaked
Bottled giardiniera mix, undrained. (Mild is best for this salad even though I love the hot mix)
Directions:
Put all the ingredients in a bowl, pour on the entire bottle of giardiniera mix and gently toss to mix.
If you do not like the vegetables listed above, do not like hard cooked eggs, or you'd rather have flaked crab or lobster in your salad - make the changes.
Taste, adjust seasonings if needed and either eat immediately or cover with plastic wrap and chill until needed.
By recipe collector from Peoria, IL
Ingredients
12 oz. mostaccioli
1 Tbsp. cooking oil
1 medium cucumber, chopped
1 medium green pepper, chopped
1 medium onion, chopped
1/2 medium red sweet pepper, chopped
1/2 cup vinegar
1/2 cup sugar
1/4 cup snipped parsley or 2 Tbsp. dried parsley
1 tsp. garlic salt
1/4 tsp. pepper
Directions
Cook pasta according to package directions, and drain. Rinse with cold water; drain again. Transfer pasta to a very large bowl. Toss with oil. Add cucumber, green pepper, onion, and red pepper to pasta. Combine vinegar, sugar, parsley, garlic salt and pepper in a small mixing bowl. Pour over pasta and vegetables, and toss mixture to coat. Cover and chill salad for 6-24 hours, stirring occasionally. Makes 12 servings.
By Robin from Washington, IA
This recipe reminds me of spring. Very cool and fresh tasting!
Ingredients:
1 pkg. rotini (macaroni), 16oz.
1 red onion, chopped fine
1 cucumber, peeled and chopped
1 tomato, chopped
dry Italian seasoning
Italian dressing
Directions:
Cook rotini; drain and rinse. Add onion, cucumber, and tomato and sprinkle on dry Italian seasoning to your taste. Put Italian dressing on and mix. Must be made a day ahead of time. If the dressing soaks into the macaroni, you may have to add more before serving.
By Robin from Washington, IA
Ingredients
1 package rainbow rotini (16 oz.)
1 cup Italian dressing
1 cup Creamy Caesar dressing
1 cup Parmesan cheese, grated
1 red onion, diced
1 green bell pepper, diced
1 red bell pepper, diced
1 yellow pepper, diced
Directions
Cook the pasta according to the package directions, until done. Drain and rinse the pasta until cold water. In a large bowl, combine pasta, Italian dressing, Creamy Caesar dressing, Parmesan cheese, onion and peppers and mix well. Serve chilled or at room temperature.
By Robin from Washington, IA
Give a "thumbs up" to the solution that worked the best! Do you have a better solution? Click here to share it!
Questions
Here are questions related to Italian Pasta Salad Recipes.
I am looking for a recipe for pasta salad with pepperoni, peppers, tomatoes, olives, etc.
By Jan M
AnswerWas this interesting? Yes No
Ad
---
---
Most Recent Answer
By betty44 [2] 07/08/20140 people found this helpful
Cook a box of tri-colored pasta, cut your pepperoni, cheese, peppers, onions, olives, etc. and add to cooled pasta. Add a bottle of Italian salad dressing and stir. Refrigerate until ready to use. I never add salt to the pasta water as the salad dressing is very salty.
---