I need info on preserving mistletoe and magnolia leaves for making wreaths and other Christmas items.
Ad
---
By Scott J. (Guest Post) 09/14/2004 Flag
I'm not sure if it will work with Mistletoe and Mangolia leaves, but it's probably worth a try: I use to know a lady that preserved eucolyptus branches for swags by cutting fresh ends and then soaking the ends in either glycerine or anti-freeze for a few days.
By Thelma (Guest Post) 10/05/2004 Flag
I am not sure this will work, but I have bought cat litter and used it on leaves and small flowers. It dries them out and they are pretty. Just cut them lay in a tray, cover with litter, and then layer again if needed until you have amount you want done. I have also read in my MICROWAVE INSTRUCTION BOOK, it can be done in it, but never tried it.....I want to preserve red, peppers I have harvested from my garden, so I am gonna try the cat litter method......Good luck tmelton (at) wayxcable (dot) com
By Claire S. (Guest Post) 11/21/2004 Flag
i was told to dip them in future floor wax.
By Midge (Guest Post) 02/06/2008 Flag
Did any of the suggestions work? I am trying to preserve fresh mistletoe now myself and found you had already tried.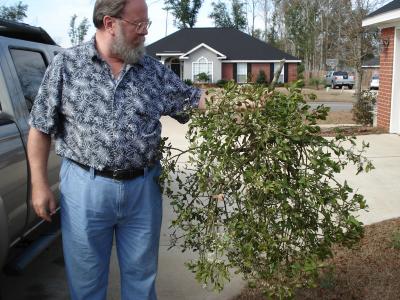 By Charles M. (Guest Post) 12/14/2008 Flag
I was told by a lot of people to dip the base of them in glycerin.
Questions
Here are questions related to Preserving Mistletoe and Magnolia Leaves for Christmas Wreaths.
I am making a large magnolia leaf wreath. Is there a spray sealant I can use to put on the leaves to keep them from turning brown? The wreath will be hung up high in the church's sanctuary all through Advent.
By Agnes B
AnswerWas this interesting? Yes No
---
Most Recent Answer
By Karen H. 10 140 11/30/2011 Flag
Go To MarthaStewart.com or FaveCrafts.com They Both Have Everything you need to know! Have Fun Crafting & Happy Holidays! : )