Homemade Fishing Game
For almost no cost, you can make a fun gift for young kids. I've seen this idea all over the internet and came up with my own version. I drew a pattern for a simple fish shape and a starfish, then used it to cut out two fabric pieces for each one.
Supplies:
scrap fabric
sewing machine or needle and thread
metal washers
buttons
dowel
shoelace
magnets
Instructions:
Stitch your pieces together (right sides together, then turn right side out).
Stuff with a bit of fiberfill.
Hand-sew a metal washer onto the "nose" of your fish.
Add a button eye if you like.
Use a short piece of dowel for the fishing pole. Tie shoelace onto one end of the dowel.
Super glue the end of the shoe lace in between two magnets.

Warning:This is an important part of the project. You do not want the magnets to come off allowing for the possibility of being swallowed. This is not a toy for children under 3 or any child who likes to put things in his mouth.

Now, find a bucket, basket, or some kind of container from which the little fisher boy or girl can "hook" a big catch. The magnet will hook onto the metal washers on the nose of the fish.
Personalize the container and decorate any way you like.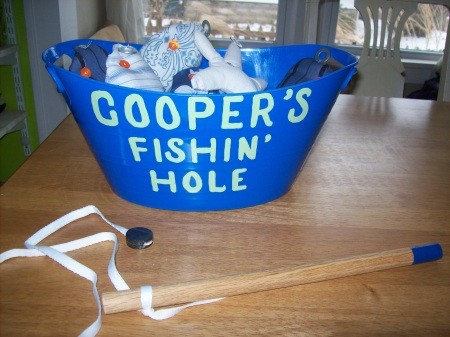 Source: Many examples online.
By Gloria from upstate, NY
Feedback
Read feedback for this post below. Click here to post feedback.

By
05/10/2012
Jean, thanks for your kind words. I made this for my 4 yr. old grandson and he loved it. I really like the way it is a toy where the child can be successful. They have to focus and really try, but they will be able to do it and be so proud of themselves. I think the trick is in using magnets that are strong enough and fish that are light enough. I tried it out first to be sure of both and found the right combination. Hope your son enjoys it as much as my grandson.

By
05/10/2012
Ooh, Robyn, great idea. Now you've got me thinking of all the other ways I could make this. I suppose you could choose any theme and just make the "fish" to go along with the theme. I love your idea of making leaves instead of fish.

By
05/10/2012
That is awesome and very creative! I'm going to use that for my son's birthday. Thanks for sharing.

By
05/10/2012
I am thinking of doing a Fall one with leaves to pick up with a magnet! Love the idea and it can be used for any season!


By
05/08/2012
Thanks, Lolly. This project came together very quickly. Deciding on which fabrics to use took the most time :)

By
05/08/2012
Very cute...my daughter would love this! Now if only I could find the time to make it ;-)
Post Feedback
Add your voice to the conversation.
Related Guides
Related Posts