The local super market has a Rival Seal-a-Meal on sale for only $50. I have borrowed my friend's FoodSaver and it worked great. The cost of the Food Saver is the only reason I haven't already purchased one. I don't know anything about the Seal-a-Meal. Is it worth getting for $50?
By Jess from Hillsboro, OR
Recent Answers

By susan06/15/2011
Get on the Food Saver website and sign up for e-mails. They often have great sales. If you are not in a hurry to purchase one and can wait until after the holidays, you can buy one really cheap directly from the company.

By LeeAnne6706/14/2011
I have a Food Saver and I just love it. I have saved a lot of money by buying in bulk and freezing the food. However, I thought I'd save money on the bags by buying Wal-Mart brand, not a good idea. The bags leaked and I got freezer burn on some itiems. They didn't hold a vacuum. What is so expensive are the bags. I buy a box of the Food Saver bags at Costco for $45. There's several sizes of bags in the box and it lasts me a long time depending on if we catch a bunch of salmon or not. That's what I've used a lot of bags on but the salmon 's just as fresh after a year as the day it was caught, so it's worth it.

By gbk06/14/2011
To get 50 dollars of use from a seal a meal or food saver you will have to use it a lot. I have 2 seal a meals and I use both regularly. Not just in the kitchen because it won't actually save you that much. If it is to freeze and keep stuff longer then it won't pay for itself, bags are one width and you can cut to many lengths but one use only. Store frozen stuff longer in the freezer simply by putting it in a plastic freezer bag seal, wrap in paper (some people even use newspaper but I use brown paper bags or uncoated white paper. You can use the uncoated because you supply the coating with plastic bag. You can just slip the plastic bags in a brown paper bag and fold down the top and put a clothes pin on it.

If you craft then the seal a meal can be used there to seal small bags of buttons threads etc. I collect buttons and do woodworking and I use mine to seal matching buttons and in the shop I keep my nuts and screws tidy in sealed plastic bags I made to size. I bought this one for 2 dollars 8 years ago brand new in box at a yard sale.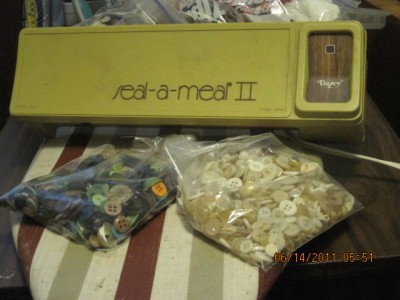 By Lizzyanny06/14/2011
I have the food saver (got it at the Goodwill for $5) It is an older model. It does work well, but I am sure the rival would do as well. The bags are what make the difference. Unlike plastic bags, they do not allow moisture or air to pass through. This is what allows them to freeze food over a long period of time. I also have the small hand held food saver that works with the ziplock resealable foodsaver bags. I use these a lot for cheese etc. where you want to use some and store the rest. But nothing beats the foodsaver bags for long term. The food saver sealers come up on ebay but be sure the seller has tested the machine. I ordered two at Christmas that arrived DOA. I have saved a small fortune with the foodsaver.

By Marjorie C. Woodworth06/13/2011
http://www.thriftyfun.com/tf001229.tip.html
Save your money and read this post!
Answer This Question
Add your voice to the conversation. Click here to answer this question.