Craft: Safety Pin Angel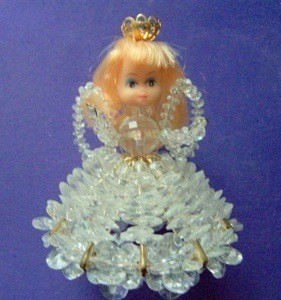 This is a safety pin doll my wife used to make and sell at craft shows. It is constructed with gold safety pins and acrylic beads.
By Carl from Brodheadsville, PA
Editor's Note: Carl sent this in via email to share with our members and he has no instructions. He just wanted to share his late wife's creativity.
Feedback
Read feedback for this post below. Click here to post feedback.

By
10/15/2009
Carl, Deeli said it best. Thank you for sharing and the angel is adorable. God Bless you and feel free to share with us!
Annie

By
10/14/2009
Bless you, Carl, for sharing one of your wife's creations and I am so very, very sorry for your loss! I hope you are fairing well and when you do have sad/bad moments just remember to look up in the sky because she and our Creator are there watching out for you :-)

I hope you share more crafts, funny photos or your favorite recipes your wife made for you with us and if you want or need a PenPal please feel free to click on my contact button.

PS - I am giving your submission a huge thumbs up!

By
10/14/2009
You should know better then to put something on here so cute and not put the instruction, please! LOL! LOL!
Post Feedback
Add your voice to the conversation.
Related Guides
Related Posts