How can I get a 30 yr old wedding dress white again?

Bee from LA
Recent Answers

By Karie Kamen C.08/01/2011
After I got married in the early 90's, vacuum packing was the rage. It kept my dress in good condition for about 10 years, and then I opened it and sold it on ebay. (I had gotten divorced.)

But now, Vacuum packing is no longer the best way to preserve your gown. I guess being in plastic prom permanent creases that you can not get out. And most of all, it keeps you from being able to pull your dress out occasionally to enjoy the memories, but more importantly to inspect it for damage.

Today, the recommendations are to have it cleaned by an experienced wedding gown cleaner. (cleaning is important, because their may be things on your dress like white wine or sprite that you can't even see yet, but may show up later or worse, destroy the fabric. The method of cleaning should be determined by the dress itself. The level of soil, the type of fabric and the types of embellishment will play a role in determining the cleaning method. (Wet or dry and the type of detergent or solvent.) An experienced gown cleaner will know the best way for your dress.

After it has been cleaned, you should hang it on padded hangers, fill in the sleeves and bodice with acid free tissue paper, and cover it in a cotton garment bag to protect it from light (not plastic!). You can also fold it in an acid free box as long as you take it out once a year and refold it to keep it from getting permanent creases. Hope that helps!!

By ella (Guest Post)03/01/2009
Help! My wedding is in 7days now and I just pick up my wedding dress from the dry cleaner and my dress are still have yellow spots because its old! Is there something I can do or should I just buy I new one?


By Diane (Guest Post)05/29/2008
Some of the cleaning methods on this site are very worrisome. Please check out a website that I just found. They have a "museum" method of cleaning and storage that makes more sense. The name of the company is "Heritage Garment Preservation" 1-866-268-GOWN or www.HeritageGown.com/restoration I have been searching for information to clean and preserve my Mother's 62 year old wedding gown and to display it at my daughter's shower. Good luck to all

By Jose Carlos Rivera de Cosme (Guest Post)03/16/2008
I am an avid collector of antique dresses. I especially love edwardian dresses. I found my dream dress in a flea market, a 1912 -1914 wedding dress ( i paid 40.00 for it ! ) It is silk and is in mint condition, except for a few "rust" stain and the sequins on the sleeves is ripped). I display them in my brownstone and take very good care of them. I usually just wash them in luke warm water and use the baby soap powder ( whch i dislove before putting the dress in). I have been lloking for a teens wedding dress for ten years. They usually are to expensive to just display. I want to hold on to this dress. Do you or anyone have any tips for cleaning it?
I have included some pictures.

Million thanks

Jose Carlos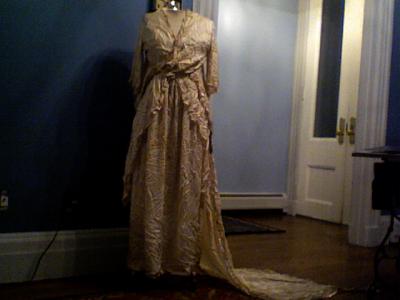 By (Guest Post)02/14/2008
My daughter would like to wear my wedding dress, it is 45 yrs. old. Surprisingly, the dress is a soft creamy white but there are stains on the bottom and one spill of something down one side in front. It is very similar in style as the latest styles, but it has 3/4 sleeves, and is pleasingly plain. There are sequins, beads and embroidery around the scalloped scoop neckline, and some of the same down the middle. It is very full with a crinoline underneath, a.train, princess style waist. The fabric is taffeta, I believe and is quite durable. Unbelievably
good condition. I'd like to wash it. Any suggestions? The neckline is yellow around the edge.

By rosy (Guest Post)02/03/2008
I have an old antique wedding dress from my grandmother. My mother also wore it in 1989 and it has been sitting in a plastic garbage bag, it has turned yellow and spots are "rust" My grandmothers friend made it for her in the 1951 it is cotton eyelet and organza. I think the buttons on the sleeve mixed with the buttons on the sleeves have caused this rust to occur. My grandmother has told me she washed and ironed it herself gently for my mother to wear it in the wash machine. My question is the dress is mostly stained with rust, can I salvage it? My dry cleaner is afraid to touch it.

By Mary (Guest Post)01/11/2008
I found what looked like a wad of curtain material, all brown and nasty in a collection of odds and ends from a trunk that my in-laws had. I decided to soak it in warm water and some Woolite. I left it in for about an hour or more and when I took it out it was an off white dress! I realized that it was my mother in law's wedding dress back from the late 1920's. I let it drip over a plastic strainer, and hung it up to dry on a plastic hanger. I didn't iron it, but did fold it neatly in a clean shoe box and presented it to the eldest sister in law.
My own Wedding dress was stored in moth balls. I was fortunate that there had been paper between the moth balls and the dress. I washed the linen dress in Woolite in warm water and gentle cycle, but I stayed by the washer and just let it spin long enough to get the excess water out and put it through the rinse cycle the same way. I spread the dress out on several towels on a bed and just let it dry. I now have it hanging in a plastic bag with a cedar ball at the bottom of the bag, not touching the fabric, as a way of keeping bugs away. If anyone has a better way of storing the dress I sure would like to hear it. For now, at least I can open my closet and occasionally open the bag and look at the dress, which is better than having it in a box or cedar chest, unseen for months or years at a time.
Archives
Thrifty Fun has been around so long that many of our pages have been reset several times. Archives are older versions of the page and the feedback that was provided then.
I have just received my mother's wedding dress and it is in need of cleaning. I would rather do it myself, because this dress is over 50 years old. I was given orally a recipe to clean it, but can't remember it. The dress has yellowed, (my mother kept it in her cedar chest). Probably not the best choice of storage. The dress appears to be homemade. I'm not sure of the fabric (No label). It feels like silk on one side, but more durable on the other side. And it has Toule on the lower half, over this other material. There are a few stains on it. I never expect this dress to be worn again, so it does not have to be perfect, but I would like to display it. Does anyone have any reliable home remedies to try to clean this up? And any suggestions for the best way to display it would be great. I was just going to cover it and hang it on the wall in my bedroom.
Thanks for your help. Louise
---
RE: Cleaning an Old Wedding Dress
Louise - I have my grandmother's wedding dress - which is even older - and I have the same problems and questions. I emailed a professional in NY and he said he could clean it (I haven't asked how much yet - I'm afraid to), but he said I should reconsider displaying it because it would cause further yellowing. My plan was a lrg shadow box, but I have yet to do anything abt it until I clean it. I figure that it may be true, displaying it might yellow it some more yrs down the road, but in my lifetime - and it probably means more to me than anyone else - it really doesn't matter! I also have my grandfather's white silk tie to go w/it! Good luck! (09/10/2005)
By Tripleb
RE: Cleaning an Old Wedding Dress
I wonderfull remedy m MIL told me is fill your tub with hot water enough to cover the dress, 2 cups clorox2 , and 2 cups cascade dishwasher( NOT washING) powder, mix until dissolved and soak over night. rinse well in warm water. you can repeat this about 3 times if it doesn't help by then the stains won't come out with this solution. it worked great on my 19 yr old baby clothes.:) (09/10/2005)
By Ravencat
RE: Cleaning an Old Wedding Dress
Ravencat's recipe may be fine for somethings but I'd be extra cautious with an antique wedding dress. First, it may not take well to water (and hot water). It may be a material that shrinks or shrivels. Test a little inside the hem, let it dry and see how it does. If it doesn't shrink then more on to the next step. Cascade would be pretty harsh so make up a little mixture of a tiny bit Cascade and Clorox2 (the NON chlorine bleach) with a little water. Paint a little inside the hem and see what happens, then rinse it with a paint brush also. That way you can pretest to make sure that the material on both the front and the back take to the mixture (and the water) with no damage. If both materials seem to take well to both water and the mixture, then try using the tub. Hot water might shrink the whole dress or just one side so warm or luke warm water might be best. If you think it is all cotton, hot water might be fine. You can always mix the ingredients with hot water to dissolve them and wait until they cool a little to add the dress. With something that is an heirloom like this, take great care with it and take the time to do some testing to see what will work the best. If your testing hasn't had good results, talk to a dry cleaner about how best to clean it. Good Luck, Susan from ThriftyFun (09/11/2005)
By ThriftyFun
RE: Cleaning an Old Wedding Dress
This recipe with the clorox 2 and cascade sounds similiar to what I was told. Thanks for the advice and keep it coming. This is a wonderful forum. Louise (09/11/2005)
By Louise
RE: Cleaning an Old Wedding Dress
I read on another web site that wedding dress stores wash them all the time in the washing machine on gentle cycle. It said to turn them wrong side out and wash with regular detergent. It said that although most dresses may look like silk, they are really polyester and are fine to wash on the gentle cycle. Don't know if this would work on an older gown. (09/12/2005)
By Ann
RE: Cleaning an Old Wedding Dress
Hello Ladies I would like to extend my knowledge on cleaning your vintage gowns as well as helping you understand why the yellowing occurs. I own A high end textile cleaning and preservation company in Ny. Catalina and Co. Properly cleaning these gowns is essential because they are delicate. Using abrasive bleaches and harsh chemicals will only deteriorate the fabrics. The yellowing occurs from stains invisible to the eye such as rain ,sugar white wine,hairspray etc. Also from improper preservation and storage. If you choose to have your gown cleaned by a reputable service make sure you take proper storage percautions to ensure yellowing wont happen again. If you are shopping around for a professional company.Please do check out http://www.Catalinaandco.com We offer the most competitive prices in the industry. I would love to extend a 100.00 Gift Certificate off of your service with mentioning this reply. Good luck and Please do not store your gowns in Attics or Basements, if I can help you please feel free to ask. (09/19/2006)
By catherine Lloyd
RE: Cleaning an Old Wedding Dress
Cleaning a dress
Here is a picture of the dress I want to try and clean. it was stored in a ceder chest, and has some minor rips and tears, so this will need to be considered when I clean it. If anyone else has any suggestions I would love hear them. thanks, Louise (02/20/2007)
By Louise
RE: Cleaning an Old Wedding Dress
Every girl has or will have her own 1 or 2 wedding dresses. It's important to know the correct way to wash and keep it clean. I manage an online store dealing with flower girl dresses, so I know a little bit about it. If you are going to wash a wedding dress, the correct way to wash by yourself is to wash by hand, not by machine; and wet wash, not dry wash. Because if you wash by machine, those beads and shinning pieces one the wedding dress will get lost easily. And you'd better use the wet wash way. First, put it into water (not hot water) with Neutral detergent for 30 minutes or longer, then it's easy to wash the wine, sugar etc. But if your dress is made of silk, cellulose acetate, rayon or wool fabrics, you'd better sent it to professional washing store, because they can't endure wet wash. After you used your wedding dress, you should wash it as soon as possible, because if the stains stay on the dress for a long time, they will create unnecessary difficulties for cleaning. Ganzi would have discolored wedding and damage fabrics. When you are trying to store it, make sure you do not hang it up, because the vertical edge of the wedding dress may make the dress longer or even damage the dress as time goes on. I hope my answer will make some help. If you are want to enjoy some beautiful pictures on the latest style wedding dresses, flower girl dresses or pageant dresses and party dresses. Please visit: http://www.fashionstars198614.com If your friends or you are shopping for a cheap and high quality flower girl dresses with the latest style, do visit my website. (08/26/2007)
By Catherine
RE: Cleaning an Old Wedding Dress
Louise: My daughter was given a beautiful wedding dress for her wedding with beading and lace. I was trying to find a way to clean it myself and found a good site. This dress is made of polyester, so I hung it in the shower with a spray attachment, wet it down first with cool water, then used a spray bottle with mild detergent without bleach and sprayed the dress, along the bottom where there it was dirty I let the spray set for about 1 min. I started at the top and sprayed the dress a few times to make sure the soap was out. I had to do the hem a couple times to get the dirt out. I hung it outside in the sun on two sturdy plastic hangers, when the dress is almost dry, I read to put in on a clean white sheet on a table or flat service to finish drying. The dress looks great and the beading looks fine. My daughter will be pleased and it will save alot of money on cleaning. This dress doesn't have a big train. If it did, you would need to support the train with a couple plastic hangers. The directions said to never fold a wet dress over a hanger, because it would crease, and not to use wire hangers. Hope this helps. I was pleased with the results. (09/03/2007)
By Debbie
Answer This Question
Add your voice to the conversation. Click here to answer this question.