By guest (Guest Post)
January 11, 2008
0

found this helpful
I found what looked like a wad of curtain material, all brown and nasty in a collection of odds and ends from a trunk that my in-laws had. I decided to soak it in warm water and some Woolite. I left it in for about an hour or more and when I took it out it was an off white dress! I realized that it was my mother in law's wedding dress back from the late 1920's. I let it drip over a plastic strainer, and hung it up to dry on a plastic hanger. I didn't iron it, but did fold it neatly in a clean shoe box and presented it to the eldest sister in law.
My own Wedding dress was stored in moth balls. I was fortunate that there had been paper between the moth balls and the dress. I washed the linen dress in Woolite in warm water and gentle cycle, but I stayed by the washer and just let it spin long enough to get the excess water out and put it through the rinse cycle the same way. I spread the dress out on several towels on a bed and just let it dry. I now have it hanging in a plastic bag with a cedar ball at the bottom of the bag, not touching the fabric, as a way of keeping bugs away. If anyone has a better way of storing the dress I sure would like to hear it. For now, at least I can open my closet and occasionally open the bag and look at the dress, which is better than having it in a box or cedar chest, unseen for months or years at a time.
By guest (Guest Post)
February 3, 2008
0

found this helpful
I have an old antique wedding dress from my grandmother. My mother also wore it in 1989 and it has been sitting in a plastic garbage bag, it has turned yellow and spots are "rust" My grandmothers friend made it for her in the 1951 it is cotton eyelet and organza. I think the buttons on the sleeve mixed with the buttons on the sleeves have caused this rust to occur. My grandmother has told me she washed and ironed it herself gently for my mother to wear it in the wash machine. My question is the dress is mostly stained with rust, can I salvage it? My dry cleaner is afraid to touch it.
By guest (Guest Post)
February 14, 2008
1

found this helpful
My daughter would like to wear my wedding dress, it is 45 yrs. old. Surprisingly, the dress is a soft creamy white but there are stains on the bottom and one spill of something down one side in front. It is very similar in style as the latest styles, but it has 3/4 sleeves, and is pleasingly plain. There are sequins, beads and embroidery around the scalloped scoop neckline, and some of the same down the middle. It is very full with a crinoline underneath, a.train, princess style waist. The fabric is taffeta, I believe and is quite durable. Unbelievably
good condition. I'd like to wash it. Any suggestions? The neckline is yellow around the edge.
By guest (Guest Post)
March 16, 2008
0

found this helpful
I am an avid collector of antique dresses. I especially love edwardian dresses. I found my dream dress in a flea market, a 1912 -1914 wedding dress ( i paid 40.00 for it ! ) It is silk and is in mint condition, except for a few "rust" stain and the sequins on the sleeves is ripped). I display them in my brownstone and take very good care of them. I usually just wash them in luke warm water and use the baby soap powder ( whch i dislove before putting the dress in). I have been lloking for a teens wedding dress for ten years. They usually are to expensive to just display. I want to hold on to this dress. Do you or anyone have any tips for cleaning it?
I have included some pictures.
Million thanks
Jose Carlos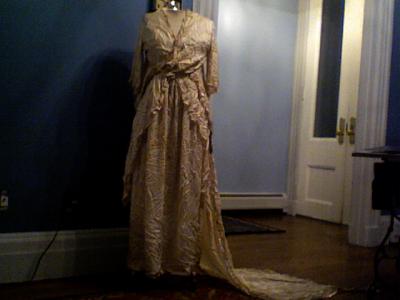 By guest (Guest Post)
May 29, 2008
0

found this helpful
Some of the cleaning methods on this site are very worrisome. Please check out a website that I just found. They have a "museum" method of cleaning and storage that makes more sense. The name of the company is "Heritage Garment Preservation" 1-866-268-GOWN or www.HeritageGown.com/restoration I have been searching for information to clean and preserve my Mother's 62 year old wedding gown and to display it at my daughter's shower. Good luck to all
By guest (Guest Post)
March 1, 2009
0

found this helpful
Help! My wedding is in 7days now and I just pick up my wedding dress from the dry cleaner and my dress are still have yellow spots because its old! Is there something I can do or should I just buy I new one?
August 1, 2011
1

found this helpful
After I got married in the early 90's, vacuum packing was the rage. It kept my dress in good condition for about 10 years, and then I opened it and sold it on ebay. (I had gotten divorced.)
But now, Vacuum packing is no longer the best way to preserve your gown. I guess being in plastic prom permanent creases that you can not get out. And most of all, it keeps you from being able to pull your dress out occasionally to enjoy the memories, but more importantly to inspect it for damage.
Today, the recommendations are to have it cleaned by an experienced wedding gown cleaner. (cleaning is important, because their may be things on your dress like white wine or sprite that you can't even see yet, but may show up later or worse, destroy the fabric. The method of cleaning should be determined by the dress itself. The level of soil, the type of fabric and the types of embellishment will play a role in determining the cleaning method. (Wet or dry and the type of detergent or solvent.) An experienced gown cleaner will know the best way for your dress.
After it has been cleaned, you should hang it on padded hangers, fill in the sleeves and bodice with acid free tissue paper, and cover it in a cotton garment bag to protect it from light (not plastic!). You can also fold it in an acid free box as long as you take it out once a year and refold it to keep it from getting permanent creases. Hope that helps!!