Question:
I've been thoroughly warned about morning glory! Can I simply plant it in a pot and avoid all the drama of it taking over my garden? Will my moonflowers do the same? All my seeds have begun to sprout... so there is a need to plant soon.
Hardiness Zone: 10b
Thanks,
Marisa from Santa Maria, CA
Answer:
Marisa,
Yes! Growing morning glories in containers is an easy way to avoid the potential of a hostile takeover in your garden. Moonflowers are not considered as invasive as morning glories, but they also grow well in pots. In fact, I would recommend planting some of each (4 to 5 seeds) together in the same pot. When the daytime blooms of the morning glories fade, the moonflower blooms will replace them in the evening.
There is some debate over whether or not morning glory roots grow best in shallow or deep containers. I have grown them in shallow planter boxes as well as deep containers. They have done equally well in both. The most important thing is that you give them something to climb on. It doesn't need to be a heavy-duty support, just make sure you have it in place before you sow your seeds.
Also, exercise caution when fertilizing. A little compost or a slow release organic fertilizer mixed in with a quality soil is all you need. Too much fertilizer, and you'll get lots of green and very few flowers. I don't use any on mine.
Moonflowers and morning glories are related and have similar growing requirements. Give them full sun and moist (not wet), well-drained soil. Remember that containers tend to dry out quickly, so check their moisture levels often.
Ellen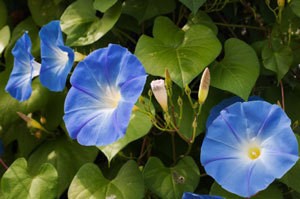 About The Author: Ellen Brown is an environmental writer and photographer and the owner of Sustainable Media, an environmental media company that specializes in helping businesses and organizations promote eco-friendly products and services.
Read More or Comment...
Add your voice! Click below to comment. ThriftyFun is powered by your wisdom!
Add your voice! Click below to comment. ThriftyFun is powered by your wisdom!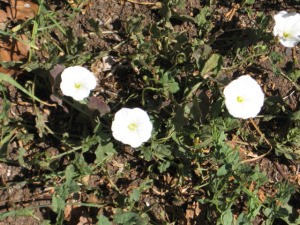 I recently moved to an older home with a large but not well-cared-for back yard. Aside from cutting back some wild plants and digging weeds, I have not done much to it, yet. It appears that I have some (well-more than some) morning glories growing along the ground. I would like to dig these up and put them in hanging planters.
I have several questions about growing them in hanging pots. Will the plants survive transplanting? Will they hang down instead of growing up if I do not put a trellis in the pot? Are they self-seeding? (I assume since they really are considered weeds by some that they do spread by themselves). I have included a picture. If these are not morning glories does anyone know what they are?
By BeaC from San Francisco, CA
Answers
September 6, 2011
0

found this helpful
Those leaves don't look like morning glory, and I don't see that it's a vine either, but it's hard to tell with the picture (not enough detail). Could be moss rose. Any chance you can post a picture that's closer in?
September 6, 2011
0

found this helpful
It looks like the morning glories that I'm always combating in my yard, but a clearer photo would be nice. I don't think there is much you can do to kill them. I even find them in my garden shed and growing up through the walls into my garage.
You should be able to pull up a long white root and plant it anywhere. I would probably bury a bunch of the green vine in the pot as well so that you have it come up several places.
Do let us know how they turn out. I have a love-hate relationship with the stuff. Pretty flowers but it is insidious!
September 6, 2011
0

found this helpful
Your picture looks like something called "Bindweed" which is a weed, all though it is related to domesticated morning glories. I would get rid of it if you can or it will take over anything else you may want to plant in that area. There are 2 kinds of garden morning glories. One of them starts with seeds and, yes, if planted in a container they will hang down and/or grow up. They aren't particular. These are annuals that come in a lot of colors and propagate themselves with seeds that can wind up everywhere.
The other one is a perennial in my yard (near San Jose, CA) and is seedless. I have seen this one only in blue. It propogates itself by sending out runners that send roots down into the dirt wherever they make contact with it. They are very invasive! That is our single-wide trailer in the photo under all those vines! You could probably keep them under control by only growing them in pots and cutting off the runners.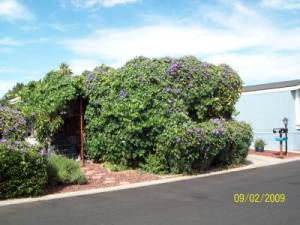 September 6, 2011
0

found this helpful
You can always tell morning glories by the big heart shaped leaves. I tried growing them in hanging planters last year and they were not happy at all. They kept trying to climb UP anything they could reach... like into the apple tree, along the fence, etc. Those I tried to train to grow downwards from the planter always looked a little sick.
September 6, 2011
0

found this helpful
I don't think you really want to do this. Field Bindweed is the more common name for the little white morning glory plants and they will take over the world if you let them. I'm sure they'd be more than happy to hang out in your baskets, but you'll have quite a time getting them out eventually.
Read More Answers