Fuzzbutt (Bichon)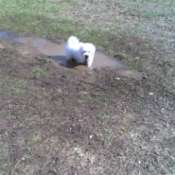 Fuzzbutt is a 3 year old Bichon. I bought Fuzz from a friend. He just loves to get dirty!
By Pamela from MO
Feedback
Read feedback for this post below. Click here to post feedback.

By
07/18/2011
Love it! I have a cat named Magic and her nickname is Fuzzbutt, too funny! Your doggy is super cute!

By
07/13/2011
I don't believe it! One of our Yorkie's nickname is Fuzzbutt and another Fuzzface! There is another Fuzzbutt in the world! Life is good.

By
07/13/2011
Aww, how cute he is. He looks like a little trouble maker. Isn't it always the white fur-babies that like dirt/mud lol. Thank you for sharing the pix of your adorable baby.
Post Feedback
Add your voice to the conversation.