I received an email with names of soldiers serving in Iraq who do not get any mail from home. I would like to send each of these soldiers a note of encouragement and support and I would like to enclose small items that they might like. What to enclose? I plan to use padded 6x9 envelopes, so I have that much room for stuff. Need suggestions on small items that would be enjoyed.

Susan from Akron, OH
By Susan K.
Ad
---
By (Guest Post) 12/07/2006 Flag
What a nice thought!
Gum, phone cards, M&M's, a note card to send home, eye drops, small sudoku, crossword,or word find books, combs, small New Testaments or Our Daily Bread booklets
By suzanne 278 750 12/08/2006 Flag
I POSTED A PRIOR POST ABOUT A YEAR AGO OR SO
I'M SURE THRIFTY COULD POST THE LINK FOR YOU

Editor's Note: http://www.anysoldier.com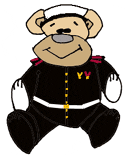 By Sheila Saey 8 141 12/09/2006 Flag
My husband was a private contractor working in Iraq. I can tell you from my own experience that chocolate does not travel well! It can take between 2-4 weeks for your package to arrive at the destination, so be sure to include things that will not spoil, and make sure that whatever you send does not violate the religious beliefs of the country.

I used to send things like wet wipes, bug spray, SPF sunscreen protection, phone cards, and cookies. Cookies can be sealed in airtight (Seal-a-meal type) baggies and will stay fresh for the duration of the trip.

God Bless and Merry CHRISTmas to you & yours!
By Ace (Guest Post) 12/09/2006 Flag
Here is a list of items I sent to a friend that all fit into a shoebox. Vics Vaporub, 3 Chapsticks, Toothpaste, Book of Psalms, Puffs, Ziplocks, Notepads, 3 Ivory Soaps, 250 Tablets Multi-Vitamins, Bandaids, Dr Sholls Thick Shoe Liners, small Stuffed Animal, Hydrocortisone Crème 1%, Address Book w/Note area, Cotton Swabs, Pepto-Bismol Tabs. He also asked for a phone card.
By Coreen Hart 78 376 12/09/2006 Flag
Phone cards, stationery, gummy bears, cool ties, and of course, a nice Christmas-y note signed by you wishing them God's protection and wisdom. If you don't have a pattern for cool ties, they're all over the net. I got mine through someone here on Thrifty Fun. They're light weight and help keep them cool. A friend of mine suggested I make the next ones in wrist size. It would be nice to throw in candy canes. Even if they get broken, they're pretty sentimental stuff.
By suzanne 278 750 12/09/2006 Flag
anything that has a spray nozzle and is combustable probably will be removed from packages. your person may not recieve it.for fear it could explode.securities have tightened down a lot their are several websites posted here prior that not only give you lists of what is and isn't exceptable but sites that will also send care packages
we signed up for several and also contacted our local american legion in our town. there is also a website you can go to that evey 60 days you can apply to have your service person receive a phone card (mailed directly to them)
By carla bledsoe (Guest Post) 12/11/2006 Flag
i sent packages like that last year. believe it or not one of the guys called me to say thanks.
he said puzzles, cards any kind of games are good. think boredom busters. most of these kids are just out of their teens. magazines, books, things that can be easily carried in a pocket. if you know where they are from, get something about or from their state or hometown. local papers or state conservation magazines. phone cards are always useful.
By Ruth Counter 2 72 12/05/2007 Flag
Cough drops, wet-wipes, sweetened kool-aid or drink mix to flavor water (that sometimes tastes bad). Often the soldiers like to share with local children, so crayons, small paper pads, wrapped candies, any kid goodie would work.
By ekuehl AT ctc.net (Guest Post) 11/07/2008 Flag
I would like to send some soldiers letters and gifts for Xmas.
I would like some names of soldiers so I can do something for
them. Could you please give me some names so that I could send
them some things for Xmas. Thanks, Elaine
By Major's wife (Guest Post) 02/13/2009 Flag
My husband is asking us all for the following items in Iraq: they need q-tips and craft pipe cleaners to clean their weapons, a&d ointment, wet wipes with aloe, sunscreen, AA and AAA batteries, travel shampoo, shaving cream, cliff bars, koolaid and gatorade mix for yechy water, lotion and soap (not girly stuff hee hee).THANK YOU for your support!