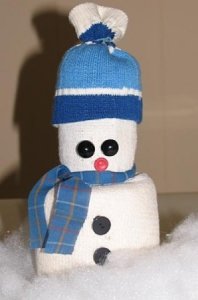 This is a novel way to give sports socks at Christmas time, using a pair of socks and a roll of toilet tissue.
Approximate Time: 20 minutes or less
Supplies:
1 pair white tube socks, either plain or with stripe around top
1 roll toilet tissue
2 black buttons with shanks for eyes
red, pink, or orange button for nose
3 buttons for vest
scrap of ribbon for scarf
thread and needle
Instructions:
Slip roll of toilet tissue down into very end of one of the tube socks.
Roll up other sock and insert into first sock so that it sits on toilet tissue, forming snowman's head.
Fold down top of tube sock to form stocking cap.
Make "pompom" by tightening top using an elastic band or thread.
Sew on eyes and nose, also three buttons down the front.
Tie on a scrap of material or ribbon for the scarf. (If using plain white socks, a tiny sprig of holly fastened to the side of the stocking cap looks nice.)
By Preserver from Manitoba, Canada