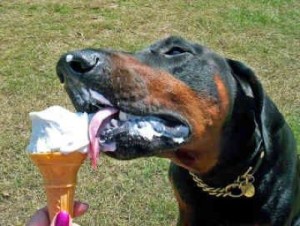 Taylor is a 5 year old Doberman Pinscher. He was a gift from my step brother. I got him 5 years ago. He likes to sleep, hunt rabbits and eat ice cream.
By Kris
Ad
---
Feedback Forum
Feedback about this article is posted here. Want to contribute? Click above to post feedback.

By Linda [5]06/15/2010
Taylor is a handsome Dobe! He looks exactly like my Dobe named Storm! Love his ears - Storm's are the same way!
Post Feedback
Add your voice to the conversation. Click here to share feedback.