Baby Food Jar Votive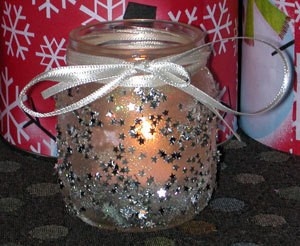 Materials:
clean glass baby food jar
Elmer's glue
white glitter
decorative small silver stars
ribbon
votive candle
Directions:
Take an empty jar (I used the 4 oz.), wash well and remove label. It doesn't matter if all the glue is off as long as all the paper is gone.
I used a sponge brush to apply Elmer's glue all the way around the jar, but not the grooves where the lid went.
While the glue was wet, I sprinkled with white glitter and silver stars.
To hide the grooves for the lid, I wrapped ribbon around the top and tied a bow.
I used a scented votive candle and wrapped each in tissue paper for gifts.
By Jenn from Lenox, MA
By jenntaker
Feedback
Read feedback for this post below. Click here to post feedback.

By
01/07/2010
I was noticing the other day as I was walking around the grocer's that they have been changing the way they package baby food, and now putting it in little plastic cups, or so it looked, I didn't look that close. Baby food jars are like, one of the best things that ever happened to crafts and diy projects, what are we going to do without all those little tiny jars to sort out small parts, batches of paint, and the ones to make into projects? I'm still mourning the loss of L'eggs eggs in my crafts supplies, and now this too? I'm appalled at the thought! What will we do with the little plastic cups, and foil lids? They are meant to be chucked into the recycling instead of used as a resource, and aren't very sturdy?

By
05/08/2008
This is a very pretty craft and like the idea of recycling the baby food jar! I put this idea in my "favorite places" so I can make some as gifts.
Post Feedback
Add your voice to the conversation.
Related Guides
Related Posts