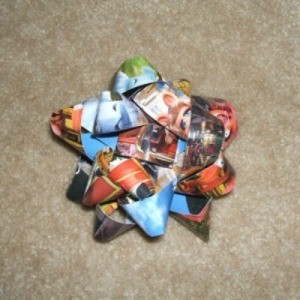 Create a package bow from a colorful magazine page. A great way to recycle your magazines and will work for any occasion.
Approximate Time: About 30 minutes
Supplies:
magazine page
ruler
ink pen
scissors
stapler and staples
glue dots or hot glue gun and glue sticks
Instructions:
Cut a magazine page lengthwise into 9 strips that are 3/4 and wide. Leave 3 of the strips full length. Cut one inch off 3 of the strips. Cut two inches off 2 of the strips. Cut the last strip down to 3 1/2 and long. Twist each strip to form a loop at both ends and staple it in the center (see photo).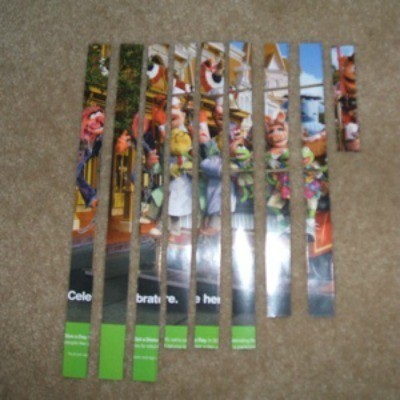 Shape the last, short strip into a circle and secure it with a glue dot or hot glue. Layer the 3 longest pieces on top of each other, spacing them evenly and securing each with a glue dot or hot glue. Add the next two groups of pieces, doing the same. And finally, glue the loop into the center.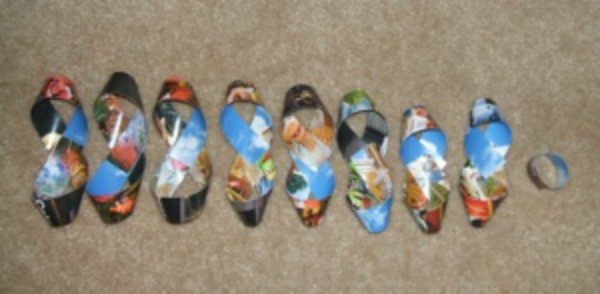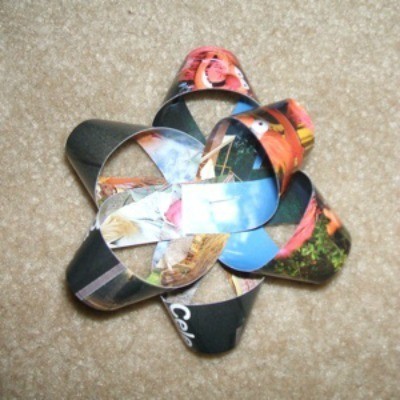 By Rachel's Mom from Wilkesboro, NC
Ad
---
Feedback Forum
Feedback about this article is posted here. Want to contribute? Click above to post feedback.

By mrscrafty [1]11/15/2010
I think I'm going to make these to use on gifts for my annual Christmas party! Thanks for the great idea!

By Elaine [129]09/09/2010
Thanks for that! You could use regular ribbon too and make them larger even.

By Linda12/26/2009
This is brilliant!
Post Feedback
Add your voice to the conversation. Click here to share feedback.