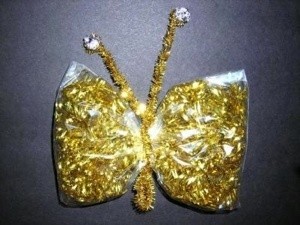 A very simple project kids can make to decorate their rooms.
Approximate Time: 15 - 20 minutes
Supplies:
holiday garland or shredded tissue paper
plastic sandwich bag
cellophane tape
pipe cleaner
aluminum foil
glue
string
Instructions:
Place some holiday garland or shredded tissue paper into a plastic sandwich bag. Fold the top of the bag over and seal it with cellophane tape.
Gather the bag at the center, and wrap the center with a pipe cleaner to form the butterfly body. Twist the ends of the pipe cleaner together to form the antennae.
Roll the ends of the antennae into small coils. Crumple small pieces of aluminum foil into two small balls and glue the balls to the pipe cleaner coils to finish the antennae.
Attach a piece of string to the butterfly body so you can hang it from the ceiling or from a curtain rod.
By Marie from West Dundee, IL