Is it okay to just have a ceremony, then punch and cake, with maybe veggie trays, fruit, and a champagne toast afterwards? I am considering this instead of a full on reception. There would be no dancing, sit down meal, etc. I want to just have something simple and inexpensive. Cake, punch, veggie trays, and fruit, with music playing?
By Ashley
Recent Answers

By Eileen M.09/20/2010
Absolutely! Do what YOU want to do and can afford to do. Remember that the wedding is one day, and the beginning of a new phase of your life. Don't mortgage the future for one day.

By susan winship09/18/2010
If there is any one day that is yours to decide whatever you want, it's your wedding day. Your idea sounds perfect to me. Enjoy yourselves and know that you have avoided an enormous amount of cost and mental stress.

By Phyllis Smith09/18/2010
Absolutely! I agree with everything that was said prior to this and I want to tell you that's what my husband and I planned over 27 years ago. It was great, fun and we paid for it ourselves!

Best wishes to you.

By Anna Kastrup09/18/2010
Sure! When I got married everyone went back to my parents' house for the reception. It wasn't a large house and we had about 50 people show up. All the food came from the local deli and the local liquor store. We even made the cake. Nobody complained and we had a great time.

By Stacy09/18/2010
Absolutely it's ok to have light refreshments for guests after a wedding, especially if it is held in the afternoon, say around 2 or 3:PM. Add some flowers, maybe a bag of sparkly confetti from a party store to sprinkle on the table. Much less stress. Good luck and Mazel Tov!

By Teri Van Hecke09/18/2010
Well, it's unanimous! Have your ceremony, cake & punch, and a wonderful life!

By Sassyscrappin09/18/2010
It is absolutely fine to do this! That is what a reception is actually for. A few munchies, and people congratulating and visiting with the new bride and groom! I have a great way to display veggies, or cupcakes, or candies that is on the cheap side as well. I am attaching a picture below. This turned out gorgeous! I used E6000 glue to put it together. Make sure it dries for 24 hours before moving it. :/ Trust me!

We took a 22" round mirror purchased from IKEA ($15), then purchased 1 smaller mirror (18") from HL, then two clear glass rounds (12", 10") from HL as well. They were on sale so they were like $3 each. We purchased the "piers" (candle holders) from dollar tree for a dollar a piece. (The taller ones) we needed 3, then the very short candle holders crystal type for 2 for $1 at dollar tree (4 of these) for the bottom half. HTH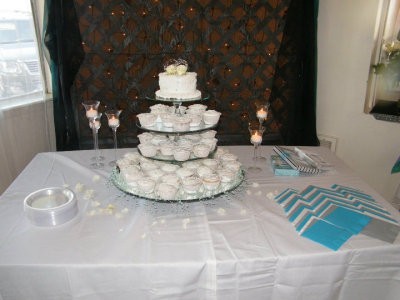 By Jill09/17/2010
Acceptable? To who? It is your wedding! I think it is a lovely idea, you still give everyone the opportunity to see you and to see one another. If they want to dine together, they can go out afterward. I think the idea of saving money like that is great, and demonstrates that your priorities are where they should be.

I get so tired of people sinking more time, thought, and money into their wedding than they do the marriage!
Archives
Thrifty Fun has been around so long that many of our pages have been reset several times. Archives are older versions of the page and the feedback that was provided then.
I was hoping you guys could brainstorm some inexpensive reception ideas. We had a small wedding planned and the service will be quite small, but the guest list keeps growing for the reception. The church's rec room will not be big enough anymore (it's not a big rec room). Anyone have any frugal ways to go about finding a cheap reception location, food, etc.? Thanks.
Heather
---
RE: Inexpensive Reception Ideas
Check with the local volunteer fire department. Many have social halls or community halls for rent to the public. Sometimes they have Ladies Auxiliaries who will cater events cheaply. All proceeds go to maintain the fire department and its equipment. (08/17/2004)
By Scott J.
RE: Inexpensive Reception Ideas
Ask some close friends or family who have access to community clubhouses; apartment, condo, or retirement complexes usually have them. Typically they are very cost efficient. (08/20/2004)
By Kelly M.
RE: Inexpensive Reception Ideas
If the wedding is in a state or month that has nice weather, consider renting a big open tent and having it outside in a backyard. If that isn't feasible, rent a covered shelter at a park. My girlfriend had a great wedding in a backyard with a tent. She ordered fried chicken, potatoes and coleslaw from a chicken place and bought a big sheet cake from a grocery store. That was 24 years ago and I still remember her party. (08/20/2004)
By toni k.
RE: Inexpensive Reception Ideas
You can always try renting another churches rec room that is close by. I had to do this for my wedding for the same reason as you. Explain your dilemma to the other church you are looking to rent, and they will probably help you out in whatever way they can. Mine gave me a discount off what they usually charge for non-members and allowed me to use a ton of the decorations they had in storage. P.S. I am more than willing to give advice to anyone who might need it. Just ask, I want to help. (01/30/2005)
By kittikat1119
RE: Inexpensive Reception Ideas
Ask your DJ if they could recommend one. We found ours that way, the DJ knew someone that owned a hall but did not advertise. They rented it to us for $300.00 for the whole weekend to allow us to set up and clean up. (02/05/2005)
By Sarah_bellum
inexpensive ideas
To kittikat1119, I need to get some ideas for a reception hall. I just graduated from college and my funds are limited. My fiance and I are financing this wedding pretty much ourselves. I am having the wedding and the reception in the same place, but I don't know how to time everything.
I would have to rent the place for at least two days in order to prepare it ahead of time. Another thing is it would be expensive to rent a place for that length of time. Also, where is a cheap place to rent tables and chairs? And what should I use for utensils, and plating. Plastic seems too cheap and ugly. (06/16/2005)
RE: Inexpensive Reception Ideas
My boyfriend and I want to get married in about a year, but we don't know where to begin. We are very private people, so we only want something for no more than 20 people. We don't believe in putting ourselves in debt for one day. We don't necessarily want to have the ceremony in a church. I still want to walk down the aisle and have a ceremony, but it has to be something small, intimate, inexpensive, yet elegant. Does anyone have suggestions on some good places for a ceremony and reception for such a small amount of people? The key thing is that we still want something nice. By the way, we live in NYC. (06/15/2006)
By tempest
RE: Inexpensive Reception Ideas
I am having a wedding for 200 people with a budget of $7,000 dollars. My reception site is at a state park in NY for $120 per day. The caterer took a better part of the money, but they cook on site BBQ style which is great for my mid evil theme. Add a horse and carriage for $250 and muslin table cloths (.99 cents per yard) on the picnic tables (which were included in the price of the pavilion). There are indoor pavilions available too. And ivory plates from the dollar tree, which I inexpensively stamped a castle on in bronze paint. For favors I had an Irish claddaugh and our initials on wine glasses (double duty). Still working on center pieces, any ideas? (10/09/2006)
By Jennifer
RE: Inexpensive Reception Ideas
If anyone in your family is a member of The American Legion, you can rent their hall very reasonably. Ours is actually free and the one across town charges $25.00 to family members. (01/02/2007)
By Lil
RE: Inexpensive Reception Ideas
My fiance and I would like to marry next year (around the spring season) and our funds are limited as well. I don't want to put us in debt before we even get a chance to start lives together, but like most women, I want my wedding! :o) How can I plan this special day without paying a fortune? I have known of people to plan and carry out very elegant and special weddings without spending several thousands.
Problem is we both have extremely large families. I have been told as a wedding budget secret, to only invite immediate family, 21 yr olds and up to the reception by invite only, cash bar. Sounds kinda cheap, but she succeeded in her inexpensive, elegant wedding and reception. What do you think? (03/13/2008)
By Price
I am trying to put on a second wedding reception. My husband is a sailor who is shipping out for the US Navy. Anyone have any ideas?
Laura
---
RE: Inexpensive Reception Ideas
If he's in the Navy now or if anyone related to you guys was in the military they can use any Veteran's Hall for very cheap. As for food you could ask everyone to bring something and set up sort of a potluck dinner and do it buffet style. (01/04/2009)
RE: Inexpensive Reception Ideas
Check out weddings in TN. They are cheaper and very nice! We found a very nice cabin to be married in at a very good price. Good luck with your search! (01/09/2009)
We are getting married on 06/12/09 and having the reception on 06/13/09. I need ideas for a very inexpensive reception, under $2000. My colors are chocolate and teal. It's an outside reception by a pool. Thanks very much.

Melody from Huntsville, AL
---
RE: Inexpensive Reception Ideas
One of your biggest costs for your wedding reception will be the food, if you plan your reception not at a meal time you will save yourself lots. A pool reception in my mind lends itself to a barbecue with a buffet for salads and you could then have an ice-cream kiosk for dessert. Everyone loves ice cream! Old fashioned ice creams in cones will be much cheaper than a big dessert and you could have lots of fun toppings.
There are lots more cheap reception menu ideas here, http://www.cheap-wedding-solutions.com/cheap-wedding-reception-menu.html
For your decorations have sways of teal draped across the sides with fairy lights to give a sparkle - make sure it is safe with the pool. If you need extra height, fill pots with clay and secure branches into the pot. Cover the pot in chocolate color paint and then hang tea lights/ candles from the branches. (01/28/2009)
By rarara
RE: Inexpensive Reception Ideas
I had a beautiful reception on my parents' deck. My mom and my aunties did all of the food themselves and it was delicious, and much more special to me. The only thing that they didn't make themselves was my cake. My mother bought the cake and assembled the layers at home. Good luck! (01/28/2009)
By bailegirl
RE: Inexpensive Reception Ideas
Have everything that is cheaper in white, then have a few chocolate and teal touches. Buy large spools of ribbon in your colors and use them to decorate white things. Spray paint bottles or jars with brown spray paint and put white/ivory flowers in them and decorate with teal bows. Tufts of ribbon (wired) can be put in floral arrangements/bouquets.
You'll have a job finding any fresh flowers in teal, but silk ones may be possible. Be careful your teals are all the same; some are greener or bluer. A range of darker and lighter teals will look classier and more natural, especially with the flowers. Take photos with and without flash; it shows up whether your colors are in harmony or not (had same problem with lilac). Generally, having everything precisely matching makes anything slightly off look odd, but if there is a range of intensity in colors, it looks meant and is far more sophisticated.
Love your color scheme; wish I still organized weddings! If you can get paper napkins in chocolate and teal (or a softer aqua that tones in) alternate them at places with ivory/white ones which cost less. If it is a small wedding, you could dye fabric tablecloths and napkins to your color. (01/29/2009)
By attila
I am getting married on September 19th and we don't have a lot of money not to mention that my fiance got laid off from work. I am trying to plan an inexpensive wedding reception that doesn't look tacky. Please help me with any and all ideas that you may have. I would greatly appreciate it. Thanks all.
By Sunshyne77 from East Chicago, IN
---
RE: Inexpensive Wedding Reception Ideas
The Shriners in our town have a pavilion with kitchen and bathrooms and I think it cost me like $200. from like 8am till midnight. You could check with local groups in your area. (04/07/2009)
By wvrdnkwmn
RE: Inexpensive Wedding Reception Ideas
My daughter-in-law had hers at her church, where she is an active member, and the ladies there helped so much! Her theme was simple, Camo and Flowers. It wasn't tacky, a lot of mason jars with inexpensive artificial daisies, greenery, tables covered with cheap camo netting and fabric. She used hunting themed decor like, toy guns, and ammo, "No Hunting" signs, stuffed (toy) animals like deer, raccoons, real deer antlers, etc. She wore camo Crocs under her gown, the bridesmaids had dresses of sage green and tan, and the men wore camo vests and ties with their tuxes. The food was simple, with everyone, including church members, family, etc. bringing a "potluck" dish, or chips, dips, sodas, etc. The church was decorated very simply, but nicely as well, with the same type of flowers, inexpensive candles, and a lot of green/brown/tan netting and ribbons to decorate the pews. (04/07/2009)
RE: Inexpensive Wedding Reception Ideas
I'm not a gardener, but could you have friends grow flowers to use in decorating and for your bouquet? Probably not zinnias, but I'm sure there are yard flowers that would work. Good luck. (04/08/2009)
By tennesue
RE: Inexpensive Wedding Reception Ideas
We did this for a dance at the Vet's club one year. Get grapevine from a wooded area and let dry out for a month. Clean off the dry leaves. Hang the grapevine across the ceiling with string or thin wire, but let it hang down a ways. Put white Xmas lights throughout the grapevine. Cut out different size stars out of tagboard or any thin cardboard. Spray them gold. Hang them up from the grapevine. Punch a hole in the top of the star and tie with thread or string. It will look like the sky with stars when it is lit up. The grapevine is free and you can borrow the lights from friends and relatives. You can use any cardboard, that is free. You can buy the gold paint for $1 at WalMart. Buy string at the Dollar store. It is a little work, but get your wedding party to help you. It will look like fantastic. Good luck! (04/08/2009)
By Judieb
RE: Inexpensive Wedding Reception Ideas
Local parks that have a pond or a lake will rent a pavilion for less than $100, and some are free. Have a family member or friend grill a bunch of food and decorate the tables really prettily. You can gather tables from others to borrow and gather table cloths to match the colors of your wedding.
Surely between both families and friends you can gather several white tablecloths and a few colored ones with tables. That won't cost you a dime. Also, for centerpieces; you can do the same. Gather different flower vases and/or candle votives or holders to match your theme. Each table doesn't have to be alike.
You can even make your own place cards. Print out the guest names with a pretty font on some card stock or bond paper and put them in a paper frame, which you can get a cutter for at a craft or scrap booking store or on line. Use some pretty paper to match your stuff and just place the cards without a frame. It will have simple elegance and everyone will have a party favor to take home. (04/14/2009)
By eth0301
RE: Inexpensive Wedding Reception Ideas
Save and use coupons! It may sound cheap, but it's well worth it in the end, as others will tell you. HobbyLobby.com has weekly coupons (http://www.hobbylobby.com/weekly/weekly.cfm) that you can print on your home computer. Their current coupon is for 40% off any one regular-priced item. Print it off 3 or 4 times, and make several trips, but you get what you need at a price you can afford. You can do this at Michael's and other craft stores as well.
Hobby Lobby has 54 inch wide tulle for decorating for 99 cents/yd. With that coupon, you can get 40 yards of it for $23 bucks. Not bad and you can decorate quite a bit for that amount.
Also with those 40% and 50% off coupons, you could pick up a cake pan set in the baking aisles of the craft stores and make your own wedding cake. If you aren't having a ton of guests, this may be a perfect solution for you. I know they have baking pan sets (I think it's a 14 inch, 10 inch, and 6 nch pan set) for about $35 at both Michael's and Hobby Lobby, so use those coupons and drop that price to $17.50, and make a wedding cake that you will always remember because you made it. With that set (if you save the top layer for your 1st anniversary) should be plenty to feed about 35-50 depending on your slices.
My local Dollar Store has some really pretty tealight candle holders. You'd definitely think they cost more than a dollar each! They also sell bags of tealights for a buck, too. Shop clearance. You have plenty of time to search those clearance racks of wedding related items.
Youtube.com also has tons of videos on decorating for receptions, How tos, cake decorating, etc. Educate yourself now, and you will have a beautiful, inexpensive wedding and reception that will be out of this world.
Congratulations, and best wishes! If you need more helpful hints, be specific in your questions (need help decorating tables, table centerpieces, etc.). This site has tons of wonderful ideas! (04/29/2009)

By Brittsmama
RE: Inexpensive Wedding Reception Ideas
Dollar tree has many wedding decor and favors, also by making your bouquet and the bridal party's bouquets you can save as well. The memories will last using silk flowers, even the men's boutonnieres you could make. You can get spa like items as well from Dollar Tree to make gifts for the wedding party. If you know someone who has a nice digital camera and is a good shot with photography you could create many pictures and the cost is less than a pro, I wish you guys all the best. (03/16/2010)

By Kimmie1972
Answer This Question
Add your voice to the conversation. Click here to answer this question.