I am painting my bedroom and was wondering if I use two different colors is it better to: 1) Paint one wall one color and three walls the other color, or: 2) Paint two walls one color and two walls the other color?
Also, if I use a dark pink and a darker orange which walls should be what? I have 1 large window in my room, but the bed isn't on that wall.
By Nicole
Ad
---
By Allison 460 07/21/20100 people found this helpful
I would use one of the colors as an accent on one wall. In this case, the darker pink, as otherwise the room might be too dark if 3 walls are the dark pink. It also depends on your bedding, though. If it is mainly the orange, then you might want the pink on 3 and the orange as the accent. And, when doing the area near the corners, obviously do the lighter color first so that if it runs over the edge you can just go over it with the darker.
By Jess Worley 4 07/23/20100 people found this helpful
I agree with the previous poster that you should do 3 and 1, rather than 2 and 2.

I would, however, suggest that instead of orange and pink on the walls, you consider painting your accent wall first (I recommend this to be the bed wall) and the other 3 walls white. Use the contrasting paint to do a desk chair or piece of furniture. Too often, people wanting bright, modern rooms overdue on color on the walls and end up with overdone rooms that feel closed in.

Have some fun and look at pics on websites like decorpad.com and apartmentherapy.com. And be sure to post your finished room! Have fun!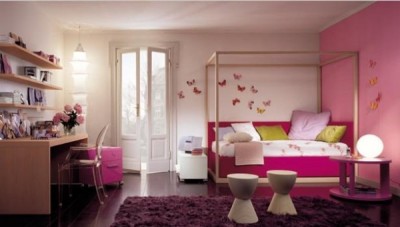 By Marg 16 426 07/24/20100 people found this helpful
I'd go for 3 and 1 as well. Maybe the window wall as the darkest, especially if the bed faces it. Personally I'd do the three walls a lighter colour too perhaps lemon to the orange, or pale pink to the dark pink. Whatever you do- enjoy yourself!
Marg from England.
By Elaine 173 890 07/24/20100 people found this helpful
I also agree with the other posters. I think 3 walls should be done in one color. In decorating odd numbers are almost always preferable to even numbers. I think the orange and pink combo would not be good for walls either. If you want to include the orange, I would make one wall pink and something else in the room orange, like an accent chair or in the pillows.
By Lee Taylor 15 426 07/24/20100 people found this helpful
I'm going to be the rebel in the group and say alternate walls, pink, orange, pink, orange! Have fun! Paint is the easiest think to change later if you want to, but for now, live a little! You can be mature and predictable and follow the design/decorator rules the rest of your life, this is the time to be bold and have a great, super happy room. Go for it!!! When I was single, my bedroom had alternating color walls, aqua, apple green, aqua, apple green. It was gorgeous! I couldn't get away with that now that I'm married, but I sure did love that room! :)
By Lee Taylor 15 426 07/24/20100 people found this helpful
Look! I even found an old pic of my bedroom, alternating walls isn't so bad. In fact I think it's great! :) I painted the shells in a lighter shade of the wall color, just by adding white to the paint you can do any contrasting design you want.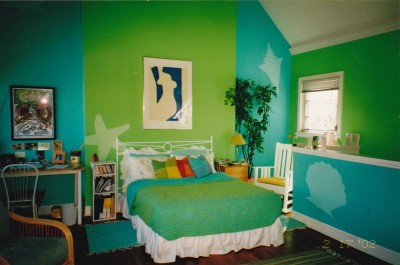 Archives
Thrifty Fun has been around so long that many of our pages have been reset several times. Archives are older versions of the page and the comments that were provided then.
How do I paint a room two colors? I would like to use blue and brown for a large bedroom with lots of light. Do I paint one wall brown and the others blue? Or should I just use two tones of brown. I am using a Southwestern style with some denim pillows, leather pillows, etc. Please give me your suggestions.

Jennie from North Carolina
---
RE: Painting A Room Two Colors
Why not do each wall split in half between the two colors. Paint blue on top then, brown on the bottom. Then run a chair rail boarder with a southwestern print in the center to help divide the two but, still look interesting. I love the theme you're doing. Those colors are so soothing. (10/07/2008)
RE: Painting A Room Two Colors
Depending on how much energy you have, also time and money there are several ways to go. One is to paint the wall a light beige. Then get a different shade of brown or try blue glaze and use it as a wash. Next, using a rag make designs on the wall. You could buy a gold glaze to put on top. Another option is to paint the room one color and one wall a different shade or different color. You can paint the doors a different color, as well as the trim. You can paint the room say brown with blue accents in the room and maybe blue and beige drapes. You could paint stripes on the wall somthing that seems to be the thing to do now. Try going on line to Better Homes and Gardens, they also can give you ideas or any major place where you buy paint.
There is just so much to do it's a lot of fun to look around and see what you can find. Oh, I almost forgot, if you have older furniture you can paint it also. I have a beautiful black table. I painted it black first, then bought stencils you can rub on or gold decals. Then I painted over it with something to seal it. Have you heard of shabby chic? Try looking that up online. I love it and it is so much fun. Finally, do not forget you can use more then two colors when you try to match your accessories. Best of luck in whatever you do. (10/08/2008)
By Darlene
RE: Painting A Room Two Colors
I painted my living room 2 different colors and the best suggestion I can give you re: preventing one color of paint bleeding onto another is to use Frog tape to mark your edges. It's green, the edge of it swells when it makes contact with paint to prevent leaks. It worked alot better than the blue 3-M tape for me. Cut in the colors with a narrow foam brush with just a tiny bit of paint on the brush, if you glop it on, it's far more likely to bleed.
You could either paint the room half and half as others have suggested, or paint all walls the same color with exception of the headboad wall, where you could have a different color as your accent wall. Since you have a Southwestern theme, you might try doing a leather paint effect on your walls with a base coat and glaze. My understanding is that you paint on your base coat, maybe a khaki, and then roll on a layer of glaze perhaps, chocolate. Then remove part of the glaze with a plastic bag, which creates crinkles and details. Good luck and have fun. (10/09/2008)
By sigma28
RE: Painting A Room Two Colors
I did my living room in 2 colors and love it. I did opposing walls navy and the other opposing walls cream. I also did sponge painting in my bathroom to get 2 different colors in there and that looks good also. I love the idea of the 1/2 colors on top and bottom with the chair rail that is posted above. I may end up trying that next. (10/09/2008)
By Lois
Is it a good idea to paint a room two colors?
Karen from Caribou, Maine
---
RE: Painting A Room Two Colors
Instead of reading about how everyone loves how they painted their own rooms; look around the net for some 2 or 3 color painting examples. In the posts above, I unfortunately didn't see one response where someone raved about anyone else's decorating scheme but their own.
What parts you paint what colors depends on a lot of factors.
How does the light fall in the room? Remember that natural light will tend to fade darker colors more noticeably than lighter colors. Some will also show the tiniest amounts of dust more than other colors.
What decorations are you going to be using and what colors will best compliment them? If you have something that will be a centerpiece; you have to plan around that or your room's main focus will not look good.
When all else fails; try the "oops" paint section for a little cheap planning. That's when people buy mixed paints then decide they don't want that exact color. You can experiment with a general blue and brown from there and see what it looks like on the walls without doing the entire job.
Sometimes I luck out there and get colors that work out great on my projects and for $5 a gal or so; you can't go wrong!
Have fun with it, don't be afraid to ask for candid opinions on your test paintings, be polite about the advice you get but go with whatever you like! (01/24/2009)
By NY Mom
RE: Painting A Room Two Colors
Yes! I love the beauty 2 colors bring. I did yellow and blue for my son's room. (01/26/2009)
RE: Painting A Room Two Colors
You can absolutely paint your room two colors. I do it all the time! We painted our daughter's bedroom with satin paint and used a soft purple and a soft pink and painted all the trim work white. It really looks cute! Also did the same in my daughter's bathroom and used satin yellow and light green. We painted our entrance way with a light tan and sponged over it with a spicy red - looks like wall paper! (02/03/2009)
By L Ward