Uses for Old Trophies
Even trophies that you won can lose their meaning as time passes. What are some ideas for reusing them?

New Requsest: How can I recycle trophies? Is there someplace they can melt them down or what can I do with them?

btmack
---
Marble Slabs on Award Trophies
Many times after years have passed, old trophies are put in yard sales, or donated to thrift stores. The marble pieces can make nice paper weights when you glue on a decorative object. Makes for a nice token gift! By Syd (06/17/2005)
By ThriftyFun
RE: Uses for Old Trophies
My brother uses the statue of the Old metal trophies to decorate in his garden. You just don't know what you will find in his yard. (06/17/2005)
By LOis.
RE: Uses for Old Trophies
For any seamstress use the marble to lay on your patterns rather than pinning them. You can cover the blocks with wallpaper to be colorful. Saves a lot of time when you need to cut out an outfit. (06/17/2005)
By LOis.
RE: Uses for Old Trophies
Call your local YMCA or YWCA and ask if they want the trophies. Sometimes they are recycled by charities or youth organizations. I donated my father's tennis trophies. He had a huge collection and they were too good to discard. (06/17/2005)
By cookwie
RE: Uses for Old Trophies
I had about 25 trophies and 50 medals. I went through them and kept the first and the state trophy (dad was the coach so we got to keep it). I kept about 5 medals -- ones we won state etc. It's hard at first to give away but you don't miss them. Keep a few and give the rest to Goodwill - they might take them. Ours did. (07/20/2005)
By
RE: Uses for Old Trophies
I understand that those who conduct Special Olympics activities for the disabled and handicapped can use old trophies to reward their "winners" (07/20/2005)
By Mesquaw
RE: Uses for Old Trophies
Yes, I have heard of nonprofits like Special Olympics re-using old trophies. They just take off the old engraved metal piece, replace it with a new one, and voila, new trophy. :-) I doubt old trophies can be "melted down," as many of them have a plastic core in the supposedly metal fancy tops. Even if they were solid metal, I doubt it would be economically worthwhile to melt them down. I suggest calling some of your local trophy stores, to see if they have any leads on who might accept donations of old trophies. Good luck! (07/20/2005)
By sunhat
RE: Uses for Old Trophies
See if your local YMCA or YWCA needs them. (07/21/2005)
By cookwie
RE: Uses for Old Trophies
I have a daycare in my home and we did a Special Olympics this year and I would have loved to have had a trophy to give each child at the end of our events! Instead I bought party favor necklaces that were on a red white and blue ribbon with a medallion on it. (07/21/2005)
By suzi homemaker
RE: Uses for Old Trophies
Instead of getting rid of the memories of your past accomplishments just transform them into something like Christmas Tree Ornaments. Remove them from the base and tie fishing line to the top of it somehow, and they will probably turn out to be some of your most treasured ornaments! Of course there is a story behind every single one of them and they can be handed down generations to come. (you may also embellish them with glue-on rhinestones, or glitter, or tie on bows or ribbons). AND.....you don't have to worry about them sitting around getting in the way during the year...for they will only take up just a little bit of room with your Christmas Decorations! (07/21/2005)
By Jo
RE: Uses for Old Trophies
These are all good ideas, but I have not found the youth group or goodwill that really puts them to good use or wants them! I think someone could make a nice profit (or non-profit) by properly recycling and offering up to all the local teams that spend hundreds (thousands?) of dollars on them! (08/30/2006)
By STAIR
RE: Uses for Old Trophies
I removed the engravings and display them in a large shadowbox (velcro attach). As for the trophies, I am very dismayed that the local Boys & Girls Club and the PAL (police athletic league) don't bother to even reply to my request to donate. They must get enough funding. (11/10/2006)
By Pam in S Fla
RE: Uses for Old Trophies
My son had a lot of bowling trophies. One year I got one as a no reason gift. He took the plate with his name on it off and in Black magic marker wrote "Best Darn Good Mom In The USA" and he signed his name on it. It is one trophy I will never get rid of. (11/10/2006)
RE: Uses for Old Trophies
I ran track for 26 years and have 5 bins of medals and trophies. I called my daughters elementary school and offered them the generic one that were plain to be re-used for field day at the end of the year. (School saves money and kids go home with medals instead of ribbons) (11/28/2006)
By Endira
RE: Uses for Old Trophies
Update: I am still collecting trophies and will be until November. I want to thank those who have donated, it means so much! Hi, If anyone has some trophies they don't need anymore and is willing to donate them please let me know. I am in an art show in Dallas and I need about 3000 (I'm half way there!). I have a DHL account set up and I pay for shipping as well. The picture I am attaching displays some of the trophies I already have. The object behind it is a model staircase, which I intend to build with the 3000 trophies. Thank you so much for your time. Feel free to contact me at mca10 at hotmail dot com. mca10 at hotmail dot com (06/21/2007)
By mca10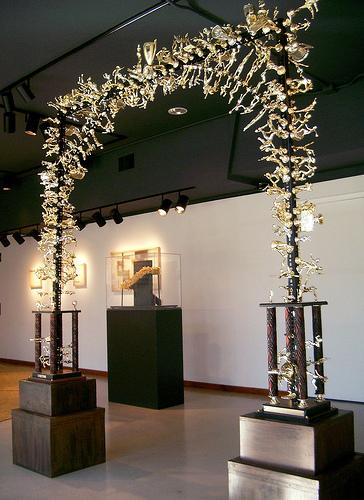 RE: Uses for Old Trophies
I know you can donate old medals to http://www.medals4mettle.org/. I don't know if they take trophies and plaques. (07/03/2007)
By Teri
RE: Uses for Old Trophies
Another use...see http://www.gccreativeimages.com/donate.html. This company is a trophy store that can accept your donations and remove any engravings. Then they can reuse them with unique personalizations for other charity organizations. This is a great use for things like a personalized plaque with your name on it. After all, I bet some random child doesn't want Joe Bob's 3rd place trophy for bass fishing, but they would probably love one with their own name and event on it, or even Joe Bob's trophy with a generic "to a winner!" engraved on it. (07/03/2007)
By Teri
---
Uses for Old Trophies
I have lots of trophies, most of them from bowling. Where can I dispose them?

JoAnn from Minnesota
---
RE: Uses for Old Trophies
Try your local YMCA or Park and Recreation. They may be able to reuse the trophy or maybe your local engraving shop could tell you where to donate them. (05/26/2008)
By Cheryl
RE: Uses for Old Trophies
We donated our Bowling trophies to the junior bowling league. (05/27/2008)
By sherri
RE: Uses for Old Trophies
Call your local County Extension office. As a 4-H Leader and member and officer of several rabbit clubs, we love donated trophies! Plates are easily removed and new ones added onto the recycled trophy. Another idea, post on your local freecycle ( www.freecycle.org ) someone on their might be able to point you to a specific group or organization in your area that needs them! (05/27/2008)
By Billie-Jo
RE: Uses for Old Trophies
Try your local elementary school or high school. We reuse curling trophies for our school bonspiels. also some places do as has been mentioned, they swap out the top of the trophy to match the activity they are doing.
We live in a small town and my mom runs an activity afternoon for kids at the summer sports day. She uses donated trophies for her races, sunflower spit event, ball throw, etc. (05/27/2008)
By louel53
RE: Uses for Old Trophies
All neat ideas. If you hate to part with them but have to. Take pictures of them for your brag book. Here you can keep them and show them off to your grandkids. Add news write-ups and you have a family history book. Now you can donate them to someone to enjoy or craft with. (05/28/2008)
By Cariboo Lady.
RE: Uses for Old Trophies
I read somewhere that you can take the inters out and make a lamp out of them. Someone did this for the son from one of dads' trophies. Cool idea I think. (05/28/2008)
By Jessica