Binder for Saving School Keepsakes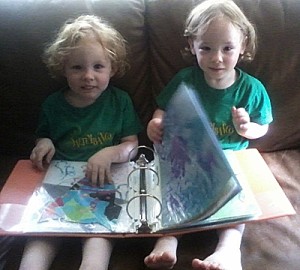 My daughter came up with the best idea to save her 2 1/2 year old twin boys artwork! Riley and Rhaynan started daycare at the beginning of summer. They do some kind of art project nearly every day, and the papers were really beginning to pile up at home! In trying to come up with a solution to curb the clutter, but still be able to view her budding artists' masterpieces, she came up with the idea to get a binder, put the papers in page protector sleeves, and file them in the binder. Now they have a nice little coffee table book for everyone to look at, and the twins absolutely LOVE to be able to be to view their creativity.
If you do this, put a couple of strips of tape over the opening of the page so the papers don't fall out and the kids can't pull them out!
I stopped by today and the first thing they had to do was pull the book out to show me and they told me all about it. I just had to take a picture of them, they are so proud of themselves!
P.S. Please excuse their messy appearance, they just finished a hard day of "school" and were looking a bit bedraggled!
By Lyonpridej from Tulsa, OK
Binder For Saving School Keepsakes
My granddaughter is going into first grade and I wanted to get her something that would be good all year long and maybe longer. What I did was pick out a new hard binder in her favorite color (purple) and put 40 page savers in the binder. I printed out a page that had her first name on it and a large smiley face. Then I put in large font "1st Grade", the school year (2007-2008) and further down the page "Teacher:_____"and below that school:"______".
I put the page inside the place for the page on the outside of the binder. I also printed out the information on the city that she lives in entire school calendar (4 pages) showing vacation, etc. This went into the binder for Mom I also made another with a pink binder for one that starts first grade in 2009 (without, of course the school calendar) The "purpose" of this binder is to put in two pages each week of school to save (and show to relatives when they visit whenever throughout the year) At the end of the year they will have something to remember the year with. Inside the binder is a pocket to put a report card or progress reports.
By Sheila S from Leominster, MA
---
RE: Binder For Saving School Keepsakes
This is a terrific idea! Wish I'd known about it years ago. It is so space saving. And even the color of the notebook does a good job of specifying which child it belongs to. I love the whole thing. Thanks! (08/25/2007)
By Nanny
RE: Binder For Saving School Keepsakes
You are so organized. I wish I had done something like this when my child was small. It would take hardly any space at all to store 12 years of memories too. You must be a wonderful grandmother. I hope your family appreciates you and the things you do for them. In the future, your grandaughter will have so much fun looking back on her treasures. (08/27/2007)
By susanmajp
RE: Binder For Saving School Keepsakes
I, too, was overwhelmed with 3 children's worth of papers and projects to save. For the projects, I "saved" them by taking a photo of my child holding, or next to, the project. Then we just saved the photo and the kids were happy to part with the actual project. (10/16/2007)
By Mariatini
Add your voice to the conversation.