You can slow down the ripening process of bananas if you put them in the refrigerator in both a brown and a clear or white plastic bag. Two bags. Don't know why this works but it does. I noticed this when comparing the life the fruit in one bag or the other compared to two. When bananas get a little brown and soft they are too ripe for me and my father. This keeps the fruit fresh longer.
By suntydt from Tazewell, TN
Ad
---
By Loretta 18 125 11/30/2009 Flag
We all need to take a page out of the book that many in the places where bananas grow, already know. It is just being discovered now that riper bananas, that are beginning to spot, have only then released the nutrients that will aid in preventing many diseases, and some cancers, and they are just beginning to find out how healthy that they really are for us.
11/30/2009 Flag
Personally I haven't had luck doing this because the bananas become mushy after cooling them but it's okay because I just use them blended in a protein drink :-)
Solutions: Slow Banana Ripening
Read and rate the best solutions below by giving them a "thumbs up".
I recently read a tip on ThriftyFun about separating your bananas from the bunch to keep them from getting brown so quickly. As this is a common problem in our household, I tried it the next time I got bananas from Costco.
The first picture was taken just after we separated the bunch. I did wind up tearing one peel open but it was easily pawned off to one of my hungry boys. We had another bunch that we ate first, so we could leave these ones mostly alone. As you can see, they are pretty green still.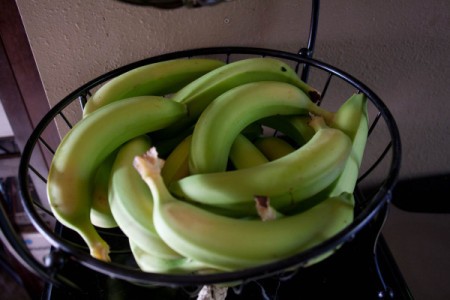 The second picture was taken almost a week later They are still a bit green on the edges but nicely yellow otherwise, with almost no brown spotting. The weather was not too warm and that might cause them to ripen faster in the height of the summer. I'm going to always separate them from now on.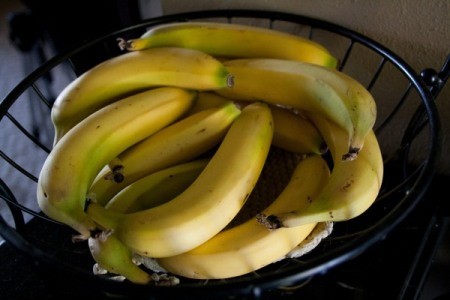 Source: ThriftyFun
By Jessica from Hillsboro, OR
Give a "thumbs up" to the solution that worked the best! Do you have a better solution? Click here to share it!