I need instructions on the materials needed for making glass photo Christmas ornaments, and also how to make them.
By Vi Johnson 286 801 02/25/20100 people found this helpful
Here is one I made of our great grandsons several years ago. I first made a circle for the right size glass ornament (3 in) I took the photo to Kinkos and had them make a copy on "transparent" paper. Using the circle, trace around the edge and carefully cut the transparent photo out. Take the top off the ornament, and use a pencil to roll up the picture and slide it inside. I used needle nosed pliers and the pencil to straighten the photo (practice & patience- trial and error). Add snow,glitter, angel hair (be careful it is spun glass) or what ever you like. I also used paint pens to draw snow flakes on the outsides of some with the year/names. Good luck, Great Granny Vi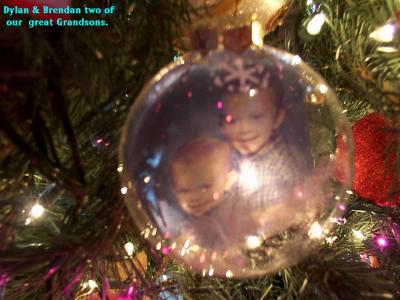 You can buy four packs of clear glass ornaments at Hobby Lobby. These are the kind that have the little metal top you can pull off. Note what size you get, 4 inch, 5 inch, 3 inch, etc.
Cut a piece of drawing paper, or printer paper even in a circle the size of the ornament you have. The easiest way to do this is to use a compass, or trace the bottom of a can the right size.
Decorate the piece of paper as you like, write something on it, draw a picture on it. If you like, you can print out a picture on paper and cut it out instead of plain paper. Cutting out a circle from photo paper is not recommended. Make sure what ever you put on the paper can be easily bent without damaging it.
Once your artwork is complete, wrap it around a pencil, with the picture inside the roll, facing the pencil. The idea is for it to be thin enough to slide into the ornament. Once rolled tight and slipped into the ornament, it gets tricky. Use long tweezers, knitting needles or an unfolded paper clip or two to unroll the picture inside the ornament. This is sort of like building a ship in a bottle. Once unrolled it should stay pretty flat on its own. Make sure the picture is the right way up.
Now get a tiny funnel or something with a small spout. You can add "snow" to the ornament! Use iridescent confetti, part confetti in little shapes, sparkles, small downy feathers, beads, etc. Make sure to put most of the "snow" behind the picture, this will help it to not curl up. It's much easier to use a small long funnel to do this, so you can just place the spout behind the picture. Add some "snow" in front of the picture as well, take care not to put so much in as it hides too much of your picture.
Now all that's left is to pop the cap hanger back on the ornament, and you're done! You now have a personalized glass ornament that the recipient will marvel at!
Note: you can glue the top onto the ornament if you're worried it will come off. You can also paint on the outside of the ornament if you want.
By Panktty from Anderson, IN
---
RE: Glass Photo Christmas Ornaments
I used this idea to make ornaments for our Christmas tree. I copied pictures of each of my parents (they have both passed on). My Dad loved to play cards with his son and son-in-laws. So I put my Dad's picture in the bulb, I cut the corner off the Ace of Spades, I put iridescent green paper in and other things that reminded us of my father.
For my mother, I put a picture of her, some lace, some yarn (she liked to crochet), and some other things that reminded us of her. Our daughter had a still born baby and we have his name engraved on an ornament along with all the grandchildren. Every year that a new baby was born, we bought 2. One went to our tree and the other went to their tree. The kids love to hang those ornaments.
The ornaments will always have a story when they are put on the tree. Where do we put them? On the top, where the angel is of course. It's a remembrance of those not with us and enables us to move on with our celebration. The children get to discuss what they want to put into the bulb. They could draw something as long as it fits. (10/31/2007)
By Chris Orr