Kitchen Wall Paint Color Advice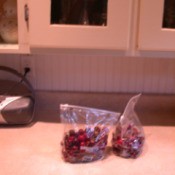 I have a decrepit (1850) farm house. In my 18x18 kitchen I have a black and white checkerboard floor, bead board walls, and wood cabinets. I painted the cabinets a very pale yellow. The counter top needs to be replaced, I can only afford the pressed wood counter tops they have at Lowe's. The black faux granite color is the one I am thinking of getting. I have white appliances and a light colored planked wood ceiling. I wanted to go with a grey? (blue) color wall. I'm trying to match the cabinet color since it was the biggest pain to paint them I don't relish doing it again. I am not sure why I picked yellow instead of white. I guess I buck convention.
My question is the wall color. What color would go best? Right now it's white and boring. I want to introduce a new color that will match the cabinets (pale yellow) and the rest of the room which is basically black and white. I'm thinking a grey color? Any suggestions please? Below is the only on hand picture I have showing the cabinet color. And don't ask why I took a picture of a bag of cherries. The counter top in picture is going to be be replaced with I believe, a black counter top.
By Mary
Answers: Kitchen Wall Paint Color Advice
Read answers for this question below.
Why not keep the yellow theme going and paint your walls a shade or two darker than the yellow on your cabinets?
Answer This Question
Add your voice to the conversation. Click here to answer this question.
Related Guides
Related Posts