By Christina Crawford 2 08/27/20100 people found this helpful
Actually, I did JUST get married, 6 weeks ago this Sunday. What I did was I registered for things I want/need for the wedding. I did an online registry called Myregistry.com. You'll get a "button" on your toolbar and then when ever you come across anything anywhere online that you want/need, you click on that button on your toolbar and it will add it to your registry. Then when you have a shower (I had 2, one for the "adults" like my mom and mother in law and elder family members from both sides, and the 2nd was my girlfriends.) people can buy you things for your wedding off this registry. And what I did for center pieces on the tables at the reception, was a candle on a square piece of mirror. I ended up with more than enough silk flower petals from the flower girls, that I used the extra silk flowers and "sprinkled" them around the candle and on the mirror. By the way, you can get artificial flowers and candles and mirrors at Dollar Tree (every thing is $1), which also has a website that you can buy in bulk.
Oh, something I thought about doing but didn't end up doing it, but for your bridesmaid and made of honor, have them carry a candle with maybe some artificial flowers around the bottom of it.
If you want to do your own music, check out http://www.worldcat.org/ which will do a search of libraries for anything you want. If you don't have a card at a library, get one first. Then look up whatever music artist you want and request it from WorldCat and it will be sent to your library, for free. Then you take it home, put it on your computer and then can burn your own CD's for your own music.
Also, I bought my wedding dress for only $99 off of ebay. Kid you not. It was brand new, never worn, still had tags on it. It was a $600 dress. But make sure you go to a local dress shop to know your dress size, because wedding dress sizes are different apparently, as I ended up with a too big dress but luckily it could be taken in, but they can only take it in so much. But there are companies on ebay who sell the dresses, they buy them when they are "out of season" from stores... I don't know if you have a Hobby Lobby near you but they are all the time having sales. I got our vases for the altar flowers for a total of $30, it was a 50% off sale so basically I bought one and got one free. Also, for a flower girl or bridesmaid/maid of honor, if you are getting married sometime after Thanksgiving, you can find some really nice elegant "evening" dress or "holiday" dresses the day after Thanksgiving online at major stores like JCPenny's or Macy's. I think I got my Maid of Honor dress for $20 off of sears. But my maid of honor was my 14 year old daughter so I had to pay for it. lol.
Buy your rings at a pawn shop. Some people are funny about it but I am not.
Make your own invitations off the computer. Just buy some nice card stock at a paper store.. and envelopes. Ask family members if they have a nice table cloth or a lace one to go on the table for your cake.
I hope this helps. Sorry so long... it's just my wedding is still so fresh in my mind, lol. If I come up with any other ideas, I'll post again.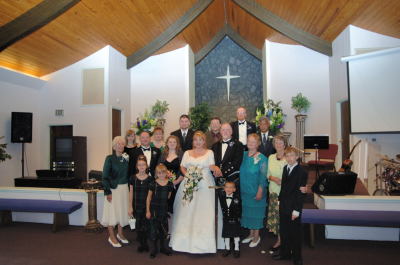 By Lee 6 111 09/20/20100 people found this helpful
Hi Swan. It can be done, here are a few suggestions:

Sheets from Walmart for tablecloths (covered with sheers give a dramatic look), or glue some flowers on them. Wild flowers are free. Bake small cakes. $1.00 for a box cake and a $1.00 for the frosting, add some cream cheese and a little lemon, tastes just like homemade. Use boxes and cover with a sheet for different levels.

Keep your food basic; pulled chicken, pork, or beef. Broiled potatoes cut into 8 pieces, add some butter and parsley, bake uncovered. Add a veggie and voila, you have food for everyone. Pasta goes a long way, use some of the chicken for pasta salad.

After Christmas, look for beaded garland at 50% off. Glass squares from Menard's for the table centerpieces, add some glitter (Walmart), some beaded garland. Use PVC or some kind of tubing at about 2 feet high with the flower of your choice, or use tree branches painted your colors. Hang colored plastic stones from the branches, glue fish line and hang.

Sam's club sells chafing dishes (disposable but still nice looking). Ask a few friends to take pictures then choose from them (you can always have a portrait picture made later).

Balloons are fun. Go with white and you color, let them fly around or tie them to string and hang them everywhere.

VFW posts are cheap and you can bring in your own foods or park pavilions. We catered a wedding and bought all the liquor, but still charged for cocktails just to cover the cost, a dollar a drink. I know I would be happy to pay that. Nowadays people understand what it costs to have a wedding, so do what you can and enjoy your day.
I am trying to plan a wedding on a $1500 budget, and that's from start to finish. I am having a lot of trouble finding a place to hold the reception as everything in Baltimore is so expensive. I live in Baltimore county, and have no problem holding it in another county. The only thing I've come across is an American Legion which I have no problem with. Have any ideas?
Natasha from Randallstown, MD
---
RE: $1500 Wedding Budget
I am not sure what season your wedding will be, but my daughter's was in May and she wanted an outdoor wedding and reception, nothing really fancy, but still nice. We planned it all together, she and I. We called one of our local parks and rented one of the sections they have that had covered pavilions.
We contacted all our family and friends and borrowed all the white Christmas lights they had and hung them everywhere, drooped in trees around and inside the pavilion. In the center of the pavilion, which came to an umbrella shape in the center, there we hung the tissue wedding bells. I rented a 3 section trellis from a local floral shop and also strung the lights atop it. I got long cuttings from a neighbor who had two types of real ivy and just ran that in and out the trellis. We bought outdoor green carpet for the long walk way up the trellis site where they exchanged their vows.
We rented a white enclosed tent for her to be in until she was to make her walk to say her vows. We rented chairs from a local church. We decided what foods would cook easily and kept them warm in crock pots on one side of the pavilion where the buffet food was served. There were plenty of tables under the pavilion and the weather was nice, no call for rain, so we put all the tables outside the pavilion. We covered them with white pretty table clothes and each one had small glass bowls down along the centers spread out with water inside them and floating candles that were lit.
This left the pavilion empty with lots of floor space for dancing. she had a friend to pre-program her songs on a CD like the wedding march, canon-d, and her song to dance with her dad and other songs to play throughout the reception.
We had our lady friends and family who were not in the wedding party to serve the foods out. We had small separate tables set up and decorated prettily for a place for guests to sign the guest book, and the groom's cake. We used a separate table for the wedding cake. We made all the invitations on our computer using pretty papers purchased at Office Max and added embellishments like tulle ribbon ties for them.
Her wedding was at 7:00 pm so just shortly afterwards it was getting dark, but all the lights strung everywhere were so romantic and pretty. I rented 2 stands from the same florist for the flowers on each side of the place where they took their vows. We had lots of coolers inside the enclosed tent we rented for keeping flowers fresh or extra ice, etc., so nothing was an eye sore.
We made very pretty signs from wood and stenciled letters telling the way to the wedding site. Those were also noted on the invitations. I made a long watermelon boat that was carved with love birds on the outside that had mixed fruit in it on one of the food tables.
It was the prettiest outdoor wedding I ever saw and cost very little because we did it ourselves and started planning 7 months prior to the special day. (11/06/2007)
RE: $1500 Wedding Budget
My husband and I were married this past May and we did all the planning, etc. for our wedding. It was an outdoor country wedding and the best advice is to network! Sit down and think of everyone you know are related to and what talents and abilities they have. Most everyone is very willing to help out with such a happy event and are just waiting to be asked to help.
Our wedding was held in his sister's backyard under an arbor they already had, we decorated it with hanging Boston ferns, sunflower garlands, and white tulle. We had white wicker picnic tables and lawn furniture sitting about the yard for guests to sit in, but also had folding chairs borrowed from his sis's church for the ceremony. Tables were also borrowed from the same church for nothing.
The cake was one of our biggest expenses at $100 and fed 100 people and made by a lady who worked as a professional cake decorator at a grocery store, but also did them on the side for extra money. My brother-in-law is a pastor and he married us for free, I downloaded and burned my wedding music from the internet. I did my own flowers, bouquets, corsages, and boutonnieres with flowers purchased at Hobby Lobby on sale. I made fans for favors (since it was outside and very hot!) and a very dear friend bought my wedding dress for me as a gift.
The groom wore denim overalls and a red t-shirt and my two children were dressed in jeans and red t-shirts also (they walked me down the aisle and gave me away), as I said, it was a country wedding. We had no attendants to worry with. I made all the decorations myself for the wedding and reception and friends came to help set up.
The reception was potluck with friends bringing finger foods and such from a menu I formed at the beginning. All we furnished were the drinks. We bought canned sodas and iced them down in huge galvanized washtubs. I also had a friend bake the groom's cake, which was red velvet, for free. So see, if you stop and think about it you may can cut corners a lot closer than you think with the help from your family and friends.
Good luck and best wishes for a beautiful, loving day with all your friends and family! (11/07/2007)
By Jawga
RE: $1500 Wedding Budget
Look for a public (local) or state park where you can hold the reception for free or for a small fee. Picnic areas, for example, can be reserved at Maryland state parks for free and up to a year in advance of the date wanted. You can reserve a spot online. (12/06/2007)
By hello
RE: $1500 Wedding Budget
There is a place called Milton Ridge. You can check out the website at www.miltonridge.com. (03/05/2008)
By Princess Nelson
RE: $1500 Wedding Budget
Maybe a church hall, I know the Rising Sun Banquet Hall and Church is nice. My best friend just had hers there. (03/23/2008)
RE: $1500 Wedding Budget
Antlers Court in Randallstown as a nice hall for $650.00 for 4 hours. Nice place. The owner's name is Paulette and her number is 410-6275100. Good Luck. (03/30/2008)
By Antoinette R
RE: $1500 Wedding Budget
Fridays and Sundays are cheap day at some places. I'm getting married May 09 on a Sunday which cost $400.00. Now that saved me $1200.00. Saturday would have cost $1600.00. Maybe try a park and a bar-b-que. Keep looking around and get wedding books from free library. (04/14/2008)
By Karen from SC