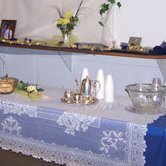 Here is a picture of the very inexpensive table coverings we used at my daughter's wedding reception. The bottom coverings were only $1/each from Dollar Tree and the top were lace tablecloths from Dollar General Store purchased for $5 each.
By Robin
Ad
---
Feedback Forum
Feedback about this article is posted here. Want to contribute? Click above to post feedback.

By Maudie [1]08/03/2005
Robin, They look great! As retired wedding photographers, we've seen everything from the most expensive money can buy to wooden picnic tables with no cloth. Yours looks classic and pretty, which I prefer. Thumbs up!
Post Feedback
Add your voice to the conversation. Click here to share feedback.