January 8, 2009
0

found this helpful
It's only my opinion but it sounds to me like you're being too aggressive with the little guy and especially since you mentions he pees. That means he's scared. He's not peeing because he knows he shouldn't have it but because he knows you're upset and that makes him frightened and upset. Give him some okay things to chew on and praise him for chewing on them and if he chews on something that's not okay just gently say no, no and slowly take it away and put it where he can't get to it.
Don't forget you are much, much larger than that small dog so playing pack leader isn't necessary when it comes to puppies doing what puppies do which is chew and is something they all will outgrow doing. And I hope the only time you are putting him in his crate is for car travel or for very short periods of time when you aren't home for potty training reasons.
By guest (Guest Post)
January 8, 2009
0

found this helpful
We took dog training classes and it was suggested for dogs who were "counter surfing" to set a mousetrap and put it next to the things you don't want them to take and the sound of it is startling and causes them to shy away from the obstacle. Also, they taught to carry a water gun and whenever the dog does something you don't want them to, squirt them repeatedly until the unwanted behavior subsides. We use a spray bottle marked "water" and squirt the dog when she is, for example, taking ornaments off the tree. It didn't take more than 2 times for her to stop going for the tree. I hope this helps.
By guest (Guest Post)
January 9, 2009
0

found this helpful
These are slos called teddy bear puppies and are adorable we saw 2 in Florida. We gave our dogs rawhide chews regularly and plenty of puppy toys.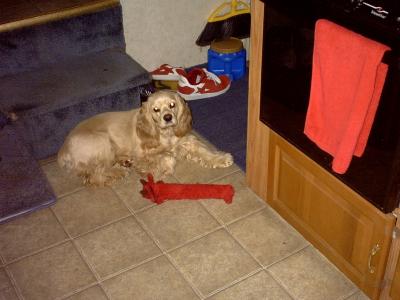 By guest (Guest Post)
January 9, 2009
0

found this helpful
When my puppy gets something that she shouldn't have but she doesn't know that, I say in the sweetest tone, "Oh, what did you find? Bring it to me." I then go over and in a more firm tone say, "Drop It." Sometimes it is hard for a puppy to drop something because their teeth are small and depending on the object they can't. When that happens, I gently remove the item, praise them for giving it up and always hand them a toy that they are allowed to chew on.
Chewing is how they lose their baby teeth. This is a natural behavior that can be dealt with in a positive way. Please get some dog training books and read the suggestions. Puppy Preschool by John Ross and Barbara McKinney is excellent. The crate should never be used as punishment. Puppies will outgrow some of the behavior you are describing. Be patient in the process. If you shower him with praise, he will want to please you. If he feels afraid of you, he will become more sneaky and defiant. I would stop trying to test him at this point because it is confusing for him.
When you tell him he can't have something and then you put it near you he thinks he can have it. Just calmly put it out of sight. I have a 7 month old puppy so I can understand your frustration. She is doing very well now thanks to me following the guidance in the book. Best of luck to you and your adorable little fellow.
January 10, 2009
0

found this helpful
He's adorable. I can see he could easily be spoiled because he's so cute. I'd give him a chewie toy to play with, the kind you put kibble in and the dog will keep busy for hours getting the kibble out. It will keep him from being bored, which is a main reason for dogs getting into trouble in the house.