Ten Things to Do Instead of Black Friday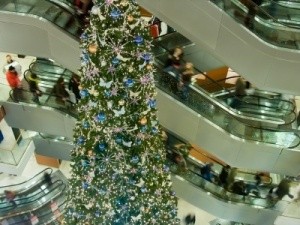 Now, most people don't start out something with a caveat. But I am going to just to get the silly thing out of the way,
Most if not all the savvy folks on TF are smart enough already, so if you already thought of this, great!
If you didn't, please don't be offended that I am suggesting something you already know. We frugal people are pretty tough, but sometimes, the media gets to us all. So, here goes:
IF YOU DON'T HAVE TO WORK, STAY HOME!

I am serious. While it's great the economy is improving, and we all must help, my idea of getting a jump on the holiday season is not seeing or hearing or worse yet, being involved in anyone getting hurt or worse by a throng of bargain hungry humans.

I am sure the lady who was injured by a "@#$Mart" crowds really appreciated the free $5.00 DVD player, but seriously folks, that wouldn't pay for two aspirin in the ER.

It's like the (ok I am just going to say it) IDIOTS who camp out all night just so they can be the first person to purchase a ticket for a new movie. If the theatre holds 500 and you are the last person to get in, you still see the same movie. So, if that special is available 11/26, you can still get it on 11/29. If you can't, they will create a raincheck for you. And let's face it, most of us TF people don't spend that kind of money on electronics anyway.

But if you need to, that same place is offering free shipping to your home for no minimum purchase, so you can shop on line and save your money and sanity. Are we smart, or what?

Bone that turkey and make some "put up ahead" freezer casseroles. Make some turkey soup to ward off the November chill. Take some food to a sick neighbor. Do things in your kitchen that keep you busy.
Make all your Christmas cards out and get them ready to send. This will not only put you in the spirit, but you can even pen that famous Holiday Letter so many love to send. Do it in word, save it and print it on pretty paper you have already bought at the DT before Black Friday!
Dig out your supplies of tape, paper, bags and boxes and make a list of what you need to get sometime next week! I save boxes for shipping all year and flattern them, so if you are like me, and you know what you need to send, now is the day to match need with have.
Make your holiday list if you have not already done it. If you have made all your presents, and most of us do just that, you can plan who gets what or non-homemade ones for others. I have literally spent 4 hours making something that cost me $.50 for materials and spent $12.00 to get it there. No more. If you make things, I suggest you make them flat that can fit in a padded envelope. You will save on shipping and breakage. But this is the day you can get everything organized and keep your wits about you.
Check out the pantry. I know, I know, you just cooked enough to feed you till next week, but another big meal day is coming. Plus, all that holiday baking and candy as gifts and yes, even a fruitcake or two so do you have everything you need? This is a good day to get out your cookbooks, plan what you want to make and make sure you have what you need. Then, next week, you can get it. Remember, NEXT WEEK!
Purge the closets and "hidy holes" of things you don't need. Many people are struggling and could use that coat you haven't worn in two years, that extra hand mixer, or that unopned puzzle you might see under someone else's tree? That teddy from your Aunt Zelda that she gave to you when you were 45 (yes, it happens), would brighten someone elses Christmas. Can you help the food bank or go take a card off the local Caring Tree? Today would be a great day to make some donation bags, food boxes, and list of things to do NEXT WEEK!
Start a new book. I personally am frothing at the mouth with the advent of two new King and Koontz novels and can't wait. Have you a stack of your fav's you have neglected? Today's the day!
Send some mail to your favorite people. In our hectic world, it's easy to forget things or put them off. We put off dental exams and oil changes and except for damage to our smiles and the cars, not much else happens. But sometimes, we get so busy that we don't remember to keep in touch. I did that last year and my friend of 45 years had been gone for 5 months before I found out. No one needs that, especially around the holidays. Call, write, email, pigeon run, whatever it takes, just reconnect. And if they are out on Black Friday, then leave them a message!
Turn off the TV. Ads can be hypnotic and after 55 years of hearing horrific news, I am saturated by what I see and hear. I try not to let it get to me, but it does. I am not suggesting we all stick our heads in the dirt. However, I think that for a few days we can live just fine without the jewelry ads, the credit card ads, the sights of people rushing in to get 40 inch big screen tv's for $50.00. And last but not least the suggestion that if our kids don't get the latest toys that somehow their little psyches will be damaged forever.
Well, that gives you a start. You can make your own list or use all or some of mine. I personally will be cooking for 10 people and loving every minute of it. So what I am going to do on Black Friday is take a nice hot soak, then stay home.
I hope this helps even one of you to keep your money, your body, and your mind safe.
By Sandi/Poor But Proud from Sweet Home, OR
Feedback
Read feedback for this post below. Click here to post feedback.

By
11/29/2010
I don't get out on Black Friday, way too crazy. More stores were open on Thanksgiving Day with sales this year. I feel the Retail Stores, Media etc., have skipped over Thanksgiving and just think about the money and greed. Everyone is in such a hurry these days, it's out of control.

By
11/25/2010
Black Friday is the day after Thanksgiving in the US, often called the biggest shopping day of the year. The shops put everything on sale and things can get a bit out of hand! The equivalent would be the Boxing Day sales in the UK.

By
11/24/2010
Mahalo for taking the time to write this list. The TF community is so generous. Love being connected to such wonderful souls.

By
11/24/2010
I have never ever done Black Friday shopping! I think it's crazy when I see most people having to park in Egypt, then have people not paying attention to who is around them blocking the isles or running in to others in their personal hurry flurry, stand in long lines for purchases that are usually more than were even planned for because of in-store sales pitches and people being grumpy because they are tired from the maddening crowds while already tired from the Thanksgiving Day before. Hmmm, what a lovely day and way to prepare for Christ's Birthday! Not! ;-)

By
11/24/2010
How great was this tip? I was a retail manager for 25 years and you can betcha your bippee that my old, tired behind never went into any store on Black Friday after leaving that profession. Loved, loved, loved this, and you gave my "little psyche" a big smile today. :)

By
11/24/2010
Sensible ideas really. I dislike getting out in large crowds and heavy traffic myself. Not worth getting into any mishaps. Christmas is a special time and it should produce more kindness from others; not horn honkers, snatch and grab shoppers, inconsideracy of any type. We all need to think of Christ and follow his examples no matter where we go. After all, Christmas can be a glorious event for each of us if we slow down, enjoy and remember to worship HIM and not the gifts.

By
11/24/2010
Thank you! I don't do Black Friday shopping myself! All those people crammed into a store makes me stressed out and crabby, and it's all me me me, very little to no consideration for others. If I find myself wanting to go shopping that day, it is always much, much later in the day/evening once the early bird whackos have left and the traffic is closer to normal. If I am up to it at all.

(Early birds, please don't take offense! I am referring to the whackos who end up trampling someone to get a discount DVD player, because that is whacko! I feel this is more likely to happen early too when all the "good" stuff is still in the store and everyone wants it.) I used to have to work Black Friday when I was in retail. Never again if I can help it!

And great suggestions! I am excited about the new Stephen King book too. :)

By
11/24/2010
Cheers! to thinking with your head! all this "buy buy buy" commercialism to do with Christmas anyway was a set up by retailers to make enormous sums of $ for themselves! I actually gave my daughter and then grandkids money at Christmas so they could shop after Christmas when everything was 50 percent off anyway! (he he he!)

By
11/24/2010
I do my holiday decorating. I haven't done Black Friday for at least 20 years, mainly because I am too old.
Post Feedback
Add your voice to the conversation.