Nature is not wasteful. Everything in it has is designed for a purpose. Maybe that is why gardeners are always finding creative ways to reuse household items in the garden. Here are a few interesting ways to recycle ordinary trash and garden waste into garden treasures, including easy, step-by-step instructions for a charming tin punch lantern.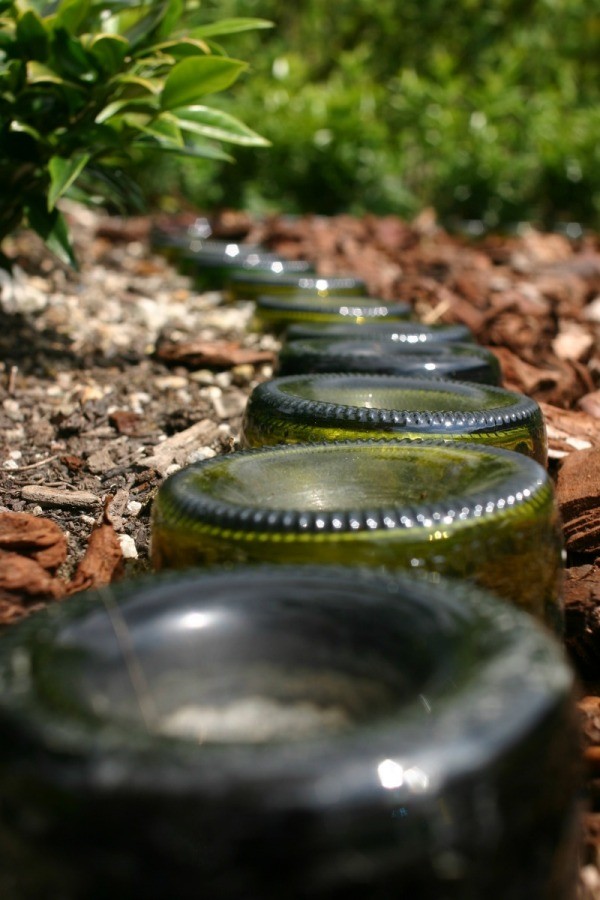 Glass Bottle Garden Path
Glass bottles come in all sizes in colors. They are strong and last forever in the garden. Cut off the bottoms and invert them into leveled sand for an interesting garden path. Frame the path with redwood boards or mix the bottle bottoms in with a wet concrete slab and add pebbles and tile remnants for an interesting look. Ask local pubs and restaurants if you can have their recycled wine and liquor bottles-they should be recycling them anyway.
Garbage Can Lid Bird Bath
Birds will gladly use a metal garbage can lid for a birdbath. Attach it to a stump or a log for a readymade bath. For a hanging bath, paint the underside with floral designs, drill holes along the rim and let it swing freely from a tree branch or Shepard's hook in your garden.
Sunflower Head Feeder
Mammoth sized sunflowers are bright, cheerful, easy-to-grow additions to any sunny garden. After the sunflowers bloom, hang the sunflower heads by twine from tree branches around your garden. Add a little wild birdseed to the already present sunflower seeds and you have a cheap, disposable bird feeder.
Satellite Dish Gazebo Covers
Remember when those giant satellite dishes were all the rage? Now that the technology has changed, you can use your old dish as a gazebo roof or dig it into the ground as the form for the water feature or pond you've always wanted (make sure to line it with plastic to prevent rust).
Tin Punch Lantern
(You can view directions on how to make a lantern from a tin can here: http://www.thriftyfun.com/tf697105.tip.html)
About The Author: Ellen Brown is an environmental writer and photographer and the owner of Sustainable Media, an environmental media company that specializes in helping businesses and organizations promote eco-friendly products and services. Contact her on the web at http://www.sustainable-media.com
Showing: Comments
Sort

: Relevance
Add your voice! Click below to comment on this post or add your answer to this question. ThriftyFun is powered by your wisdom.