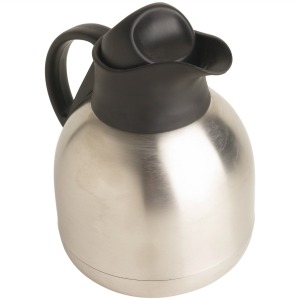 Having a clean decanter helps keep your coffee tasting delicious. This guide is about cleaning a coffee carafe.
Ad
---
Solutions: Cleaning a Coffee Carafe
Read and rate the best solutions below by giving them a "thumbs up".
I just spoke with one of my sons and he gave me a great tip. He uses an auto drip coffee maker. When he empties the carafe, he rinses the filter and uses it to scrub the inside of the glass carafe. He tells me the glass shines like new money. The filter is just abrasive enough to remove the coffee stains without harming the finish. You don't have to fool with the vinegar boil every few days or weeks depending on how often you use the pot.
By MartyD from Houston, TX
Almost everyone I know has forgotten to turn off the coffee pot from time to time. We tend to think a cleanser will get the grime out but, in reality, it scratches the carafe and it will break easier.
The best way to remove those tough baked on stains is to put some ice cubes into the carafe, and slosh them around until all the burnt coffee is gone. Simple, easy, and very clever.
By Maphisx7 from Gordonsville, VA
If you have a stained glass coffee maker carafe with the plastic top (pour spout area), resist the urge to clean it in the dishwasher. The sealant around the plastic section will soon shrink and start to leak coffee when you pour. Instead, just put in a spoon of dry dishwasher detergent and fill the carafe with water to below the plastic section. In a matter of seconds, you will see large dark flakes of 'stain' peeling off the inside of the glass. Swish with a dish brush, or pour out the water and wipe the inside with a sponge, then rinse. The glass will quickly be clear as new!

By CrafterMary from Mtn. Pine, AR
Give a "thumbs up" to the solution that worked the best! Do you have a better solution? Click here to share it!
Questions
Here are questions related to Cleaning a Coffee Carafe.
There is a bitter green tea taste in my coffee travel carafe. It makes my coffee taste bitter. How can I remove the taste?
By Vivian from New York City
AnswerWas this interesting? Yes No
Ad
---
---
Most Recent Answer
By Rita Horne [6] 10/18/20110 people found this helpful
Take about 1 tsp of baking soda and fill with hot water. Shake to dissolve and let it set for about 1/2 hour. Then use a bottle brush, wash and rinse. It will sparkle again.
---
The hints I received were so good on how to remove coffee stains from the lid of my thermos carafe, I now need to know how to remove the coffee smell from the thermos carafe itself. You guys are all great.

Laurie

AnswerWas this interesting? Yes No
Ad
---
---
Most Recent Answer
By Katie [5] 02/06/20110 people found this helpful
I had that problem as well, and now I wash it out at the end of the day, fill it with hot water and let it set over night, in the AM it is good to go. It seems when it sits closed up is when that smell comes. Also, every once in awhile, just because I have a sensitive sniffer. I put some vanilla ice cream inside and let it set for a bit. When I rinse it out the smell is much better!
---
Anyone have any suggestions for removing coffee stains from a white plastic coffee carafe lid?
By Balber from Buffalo
AnswerWas this interesting? Yes No
---
Most Recent Answer
By Sherry 11/29/20090 people found this helpful
For years I have used baking soda to get the coffee stains off the plastic carafe lid as well as inside the carafe. Just sprinkle enough on to make it grainy, rub with your dishcloth or a wet sponge, and rinse. Not only does the baking soda scrub off the stain, it also removes the leftover coffee smell!
---