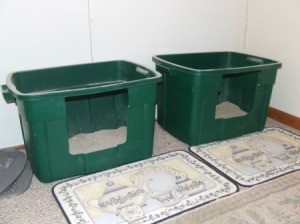 I always had a hard time finding a litter box that was deep enough for my cats. They kicked loads of litter out the side with traditional boxes. Then I tried a covered box and it just made them stinky when they came out. So I made my own litter box.

I simply bought two deep Rubbermaid containers (I think Rubbermaid would be better than Sterilite since Rubbermaid is a little more flexible) and cut two openings in the front of the containers. I had my dad actually cut the openings with a saw, but I think a sharp box cutter (and a little safety precaution) would work, too. This has been the "perfect" solution for my cats because they only spill litter out the front, and even then it's not very much.

I hope someone finds this tip useful!

By Kathy from SD
By khilde
Ad
---
By debera morrow 4 22 07/04/20130 people found this helpful
I used an old baby's bath as the sides are high and it worked well!
By Lahni D. 1 03/27/20140 people found this helpful
Hi!
Can you please tell me the size/dimensions of the Rubbermaid tubs you used?
Thanx!
Lahni
Archives
Thrifty Fun has been around so long that many of our pages have been reset several times. Archives are older versions of the page and the comments that were provided then.
I always had a hard time finding a litter box that was deep enough for my cats, so I made my own litter box.