Because of an illness we went too long before cleaning our gutters (the outside not the inside). No matter what we use or how we scrub the dirty water stains will not come off. Any suggestions? Thanks!

Kris from Athens, Ga
By Kris Pereira
Ad
---
Recent Answers
Here are the recent answer to this question.

By (Guest Post)01/16/2009
Eliminate Dirty Looking Gutters! Gutter Edge Visit Us Online at www.gutteredge.com

By Lynn E. (Guest Post)07/28/2008
Hi... I read your request and just wanted to let you know that we live in Colbert, GA. (5 mins. from Athens) and my husband hangs gutters and has a pressure washing business. He does this all the time. If you'd like to contact him, just e-mail me back.

By David Cox Homeservices.cc (Guest Post)07/24/2008
It is actually pretty easy with the right material. If it is mold it will come of very easily with bleach. I assume from what you have described it is a white gutter with aluminum oxidation on it. I clean this for customers all the time and the product to use is called gutter zap. Sunbright supply sells it, as well as others.

Hope this helps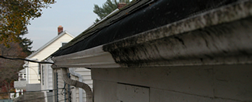 Answer This Question
Add your voice to the conversation. Click here to answer this question.