Cleaning a Burned Stainless Steel Pan
Answers: Cleaning a Burned Stainless Steel Pan
Read answers for this question below.
Try Barkeepers Friend. It is less abrasive than a brillo pad, and removes stains or discolorations on stainless steel. I use a lot of it.
Try putting water in the pan and bringing it to a boil and then use the soap pad when it cools off enough. If that does not work buy some stainless steel cleaner, which I know works for me.
If you don't mind waiting. You could try boiling water in it for a bit. Then when it has cooled off sprinkle on baking soda and let it sit for a few hours.
Another helpful tip is to let a pan sit with water and a fabric softener sheet in it for at least 10 minutes to soak (if I don't have a sheet, I just use a bit of liquid fabric softener), then wipe away and wash as usual, all burnt-on food residue will come off. You can try this and if there is any burnt-on residue left, try using a Brillo pad like someone suggested.
Thanks so much, I have tried the SOS pad, so now I will try the oven cleaner. Hope that works Good idea! Roberta..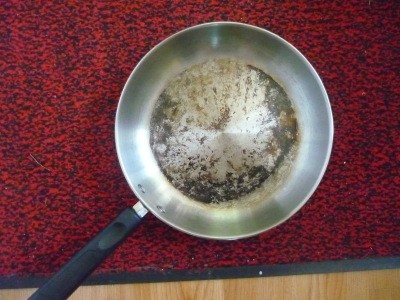 Have you tried a Brillo soap pad? It takes a lot of scrubbing to get that burned surface off. If that doesn't work, take the pan outside and spray it with oven cleaner and let it sit for a while. Repeat if necessary.
Answer This Question
Add your voice to the conversation. Click here to answer this question.