Hanging Pictures on the Wall
I have different sizes and kinds of frames on my hallway wall and would like to change it. I'm not sure how to go about doing it. Any suggestions? Thank you.
Donita from Loveland, CO
Answers: Hanging Pictures on the Wall
Read answers for this question below.
How about pencil a straight line across the wall and line up the tops of the larger frames with that line? Then draw another line across the wall underneath the large frames and line up the tops of the smaller frames with that line. Also don't stick little additional pictures in the corner of frames , that always looks messy.

The large framed collage does not really fit with the rest of the pictures and perhaps you could hang it by itself on another wall. Just my opinion :-)
You could think about moving some of these photos to other places in your home and bringing in other photos or items to mix in among your photo arrangement. You could include plaques, decorative plates, and other decorations to hang on the wall amongst your photos. The only limits are your imagination!

Also, you could do several different groupings with some space in between, instead of one large group taking up the entire hallway.
No rhyme to your reason is always a plus for hallway pics! Even one at knee level can be fun. Four small frames equal a larger one, or maybe use round frames in bright colors on a neutral wall to mimic the look of a garden flower.

One time I hung about 12 pictures using the same size frame and style. it was the most ugly creation.
When ever I visit someones home and they have pics on the wall they are of different style and shape frames. The way they are arranged I found most attractive. Maybe if you visited a frame shop at the mall and talked to associate it would give you some ideas.
You need some kind of uniformity, whether it be all black frames or all gold etc. They don't have to be exactly the same or even new. You can even buy from garage sale and spray paint, I like those new textured spray paints like the fleck stone or rust is really nice.
I like hanging my kids art. The frames in the photo, I bought from the cheap frame art section at Big Lots and Dollar Store, I took out the art in them and put in my kids art. I didnt stress about the frame sizes as some of the photos that didn't fit exactly, I take them to Office store and they color copy and resize for about a dollar.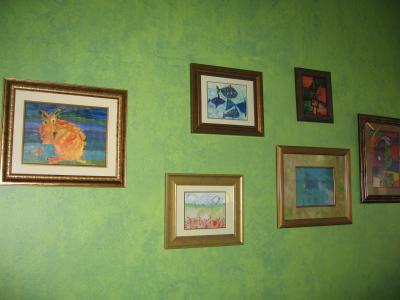 Would it look better if all pictures were in the same kind/color of frame? Arraigning them on the floor first is a good idea! Thanks for all the input. I'm still thinking about what to do.
Thanks again!


Arranging on the floor is great If you are good at knowing where to put the nails, once you hung your first picture...go for it. I just think it is so much easier to trace along your frame and hang the paper first. I did that with a small collage that I hung and I got the nail right the first time. It was also easier for me to visualize. Love this site for all the ideas!
Why not arrange the pictures on the floor to a pattern that you like and then rehang them on the wall?
I have a hallway that I use only black frames. Most of them I have bought at garage sales or thrift stores and have painted them black.

Maybe some of the smaller pictures...I would put in a collage frame. I would also trace along all the frames that I did want to use with newspaper or old gift wrap and tape the paper on the wall to see what arrangement I liked best before I put anymore nails into the wall.
Answer This Question
Add your voice to the conversation. Click here to answer this question.
Related Guides
Related Posts