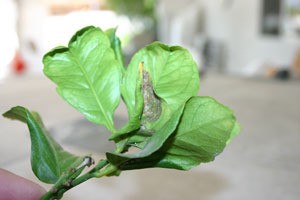 My lemon tree is having problems with it's leaves curling. Anyone have any ideas what is causing this and what to use to eliminate it?

What is the best stage to pick the lemons? Often the fruit looks ripe but the inside is dry and even brownish. Could this be due to picking too late or could it be part of the above problem?

A photo of the leaf problem is attached.

Hardiness Zone: 9a

Donna from Rancho Cucamonga, CA
By Donna
Ad
---
Recent Answers
Here are the recent answer to this question.

By JEANNE (Guest Post)05/11/2007
I live in Florida and that looks very much like a citrus leaf problem that suddenly appeared here just after Hurricane Andrew blew through (it may have come all the way from Africa). If it is the same thing, there should be an insect larva inside the curl with some webby stuff holding the leaf in the curled position. I think some kind of moth may develop. I generally take the leaves off and seal them up tight in a plastic bag before disposing of them and then spray the tree with a good general purpose citrus pest spray. It does not seem to hurt the fruit as long as there are enough healthy leaves to keep the tree well fed and sunned. I have noticed that my newer trees don't seem as bothered by the problem as some of the older ones although they still seem to get some curled leaves. I just deal with each tree as they need it. I find it helps to keep them cut back and fairly small. I don't know what caused dry brownish fruit. It also may help that my lemons are Myers lemons, a native citrus that is so hardy that it does not require grafting.
Answer This Question
Add your voice to the conversation. Click here to answer this question.