Jibby is 7 year old Pomeranian and Papillon. In memory of Jib, who was the best friend and companion anyone would ask for. He was diagnosed with leukemia in May and was given 6-18 months. I cried so much when I found out, but realized that I should enjoy every minute I had left with him, which I did. Jib left us on January 2nd, miss you Jib
By Leona from St Paul, AB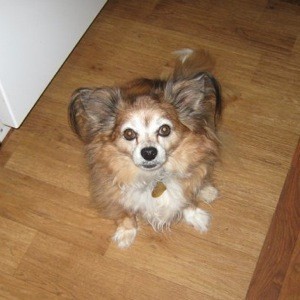 January 22, 2010
0

found this helpful
To Leona,
AAH! I am so very sorry for the the loss of your sweet child Jibby. Lovely photo, Jibby was so Beautiful! The Blessing went both ways, thats so easily noted!
My extended children are: Chihuahuas ages: 10, 5 & 2 1/2. (All neutered/spayed).
GOD Bless all!
January 22, 2010
0

found this helpful
I'm so very sorry also! He is beautiful! It is so hard to lose a 'furkid'. I lost my Taffy a year ago November and I still get so choked up about it. Hugs to you from me and my three furgirls! God Bless!
Add your voice! Click below to comment. ThriftyFun is powered by your wisdom!
">
Jibby is 7 years old. He is a mix of Chihuahua, Pomeranian with a little Papillon. I got him 7 years ago, he was born on my husband's 50th birthday. I got him from a breeder and they didn't know which dog she had bred so they were giving the pups away. She brought three in a basket and Jibby was the only one to stand up and look and me with big bright eyes.

He likes to fetch and run around the yard with our black lab and go for car rides. He is an excellent pet, he has never barked, I don't know why, if you ask him to speak he will bark, but that is the only time he barks. He loves to dance and stand on his hind legs and spin around in a circle for a treat.
He started coughing about three weeks ago, so we took him to the vet because we thought he had something stuck in his throat. I expected the vet to show me a bone or something he had pulled out of his throat, but it ended up that all of his lymph nodes were swollen the size of golf balls and he had leukemia. He has maybe six to twelve months. He is on steroids long term, which have shrunk the lymph nodes so they aren't pressing on his windpipe.

I love him with all my heart, he is my sidekick, he goes everywhere with me. I am going to miss him so much, but I am also going to enjoy every minute I have left with him

By pico from ST PAUL, ALBERTA
Answers:
Jibby (Chihuahua/Pomeranian/Papillon)
I am so sorry about Jibby. What a beautiful dog you have. Maybe there's a cure for him, everything has a purpose but do spend every bit of time with him. You are all in my prayers. (07/24/2009)
Jibby (Chihuahua/Pomeranian/Papillon)
Prayers coming Jibby's way. (07/24/2009)

By mulberry204
Jibby (Chihuahua/Pomeranian/Papillon)
I'm so sorry you are losing your baby. (07/24/2009)

By bailey36
Jibby (Chihuahua/Pomeranian/Papillon)
I am sorry about Jibby, I will keep you in my prayers. I lost my sidekick a year ago March. I know what you are going through. (07/24/2009)

By LAlady44
Jibby (Chihuahua/Pomeranian/Papillon)
Oh my dear, how well I know your pain. Last December our lab/springer mix, Suzie, had shortness of breath and we took her to the vet. A chest x-ray showed a large tumor and fluid in her chest so we had to have her put to sleep that very day. So sad, we took her to the doc to find out what was wrong and came home without her. I still cry most every day missing her so much, but we had no choice, it was the best thing so she wouldn't suffer any more. It's a big responsibility to have a pet, the bad comes with the good. (08/16/2009)
By Marfette