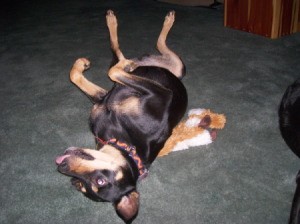 Biscuit is our 4 year old terrier mix. My husband was in the woods on his 4 wheeler and found her as a small puppy (she still had her milk teeth). Someone had thrown her away like trash.
She travels with us, swims in the pond, plays with grandchildren, and herds our goats. She is the sweetest little dog and my best friend. She even helps me weed the flower beds, pulling the grass with her teeth.
By Karen
Ad
---
Feedback Forum
Feedback about this article is posted here. Want to contribute? Click above to post feedback.

By gbk [45]05/24/2011
I just wanted to say thanks for sharing your story. I have nine success stories and each are pretty much the same, thrown out to die, but I found them. That doesn't include the 9 cats we got the same way. I won't even venture how many we found homes but the ones left have special problems but their love is forever. Thanks again.
Post Feedback
Add your voice to the conversation. Click here to share feedback.