Charcoal (Persian Cat)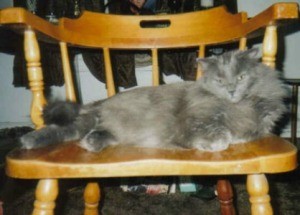 Charcoal is a 7 yr. old Persian Cat. He was born and lived on the back porch at my Grandma's house and my Mother told me to pick one of the kittens out and take home for my birthday present that year. So, I picked Charcoal and was able to get him because he was too little to run very fast. I put him in a cardboard box and took him home in my truck.
What does he like to do for fun? Charcoal likes to play with the fake mouse for fun. I throw it and he runs after it and brings it back to me and I throw it again. It's really good exercise for him.
By Vanessa
Feedback
Read feedback for this post below. Click here to post feedback.

By Linne Dodds (Guest Post)
07/09/2005
Gad he's Gorgeous ! Looks like he's soft as powderpuff too & knows who is boss .
Hint: It isn't you . Hah ,hah .
If he was mine when I came in fromt the cold during Winter , I'd rub my cold nose on him to warm it right up.

By michele (Guest Post)
07/08/2005
OOOHHHHH, he is gorgeous. I'm sure he is a blessing to have around. Love his beautiful long fur and those eyes....thank you for shring his pic with us! ....michele....ppppuuuurrrrring loudly..lol!
Post Feedback
Add your voice to the conversation.
Related Guides
Related Posts