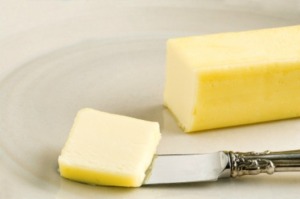 When baking your recipe calls for a number of tablespoons of butter, but you are unsure how many are in a stick of butter. This is a guide about how many tablespoons in a stick of butter.
Solutions
Share a solution for this guide today!
Questions
Here are questions related to How Many Tablespoons in a Stick of Butter?.
Does a stick of butter equal 8 tablespoons?
By William from South Bend, IN
---
Most Recent Answer

By RoxanneStMarc03/05/2010
Hello William,
1LB = 454 grams. One stick is 1/4 LB or 113.5 grams and YES it's 8 tablespoons.
Measurements you'll come across that all weigh the same as one stick are:
4 ounce
1/2 cup
8 tablespoons
14 teaspoons.
Happy cooking / baking!
Roxanne
How many tablespoons of butter in a pound?
By Nathan from Abbotsford, BC