Answers: Canning Pickled Eggs
Read answers for this question below.
Each of these recipes uses 12 peeled, hard-cooked eggs. The directions for each recipe below is to:

Bring all the ingredients, except the eggs, to a boil.
Reduce the heat and simmer for 5 minutes.

Pack no more than one dozen peeled, hard-cooked eggs loosely into a warm, pre-sanitized quart jar (or other similar size container which can be closed tightly).

There needs to be plenty of pickling solution, and enough to completely cover the eggs. Pour the hot pickling solution over the eggs in the jar, cover, and refrigerate immediately.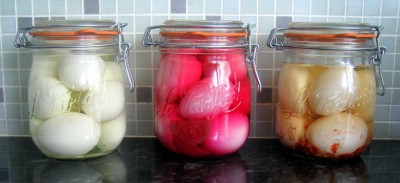 When I buy 'pickled asparagus spears' (from Costco), after I am finished w/them, I plunk a few (4-5) hard boiled eggs in the brine, let sit for 4-5 days and walah!
M Summers
Answer This Question
Add your voice to the conversation. Click here to answer this question.
Related Guides
Related Posts