Happy Cluckers (Chickens)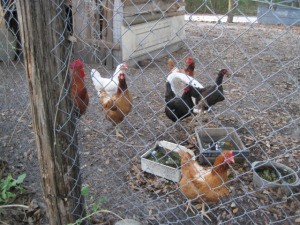 Our chickens live in our front yard. They like to be by the front gate so they can meet and greet everyone. Their yard is around a giant oak tree. We feed not only the chickens there but the squirrels, birds, and, sad to say, a rat or two that we haven't caught yet.
There are five hens and one big red rooster. There used to be four red roosters as evidenced by the bare spots on the girl's backs. Now the girls are spoiled rotten, and one man in the house makes them happy cluckers.
By fuzzytufts from Folkston, GA
Feedback
Read feedback for this post below. Click here to post feedback.

By
06/09/2011
Robynfederspiel yes I saw your article it was good. Yes get him 2 ladies and you will make him much happier. They get meaner and meaner without ladies. I just love him, do you know where to get a pair of babies? I live in south Georgia and I have never seen them. You can email me if you know how I can get a couple. Get him mates that are like him if you can and you'll be everybodies envy.

By
06/08/2011
I have a rooster that plays in our frontyard. I have kept him from the time he was a few days old. He is so much a family pet. However the whole family is scared of him. I am thinking of giving him a hen to see if it makes him happier. My rooster is trained to wave and answer coughs and laugh. He is an amazing rooster. I have included a pic.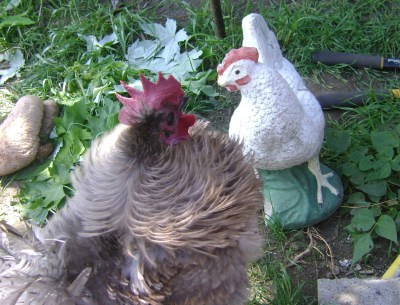 Post Feedback
Add your voice to the conversation.
Related Guides
Related Posts