Rubber Duck Baby Shower Centerpiece
I attended a baby shower last weekend and the hostess had the cutest centerpiece on the buffet food table. It was a shallow wide glass bowl which was filled up with water, and then she put the mini rubber duckies to float. As we got our food, we would take a rubber duckie to take home!
The rubber duckies are found on this site: http://www.orientaltrading.com and the item is #RUBBER DUCKY SQUIRTS
Item Number: IN-39/311
$4.95 per Dozen
By Pam
Feedback
Read feedback for this post below. Click here to post feedback.

By
05/31/2009
We made blue punch ( which was a recipe for Sonic's "ocean water") & floated rubber duckies in the punch bowls. It was cute!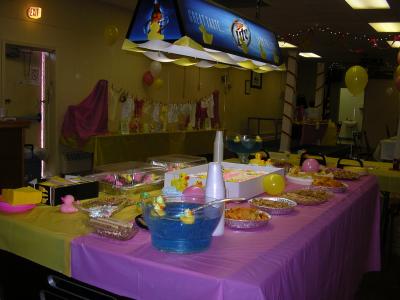 By Cathy (Guest Post)
06/05/2008
I order the mini-rubber ducks for my daughter's baby shower. I had all intentions of putting them in clear bowls with a touch of blue food coloring. My 11 year old son decided to 'try them out' in water and what do you know...1/2 of them DON'T float! They are too top heavy and fall to the sides. I may now do blue jello and stick them in. Still working on it.

By
04/04/2005
I did some cute centerpieces for a baby shower using $1 small fishbowls. I cut out booties,ducks,etc from baby shower paper and decopaged them to the INSIDE so the design shown through.Paper gluestick dries clear.I filled them with candy and tied a couple of helium balloons onto it.Very inexpensive.
Post Feedback
Add your voice to the conversation.