I'm a social security senior and live in a mobile home in Central California because it's the best I can afford. It's nice, but 30 years old.

I've already painted over all the old paneling, with an off-white throughout, which is okay but not creative. The kitchen cabinet doors, when put back on, did not go back on squarely so that the cabinet doors that face each other in the middle don't square up precisely, leaving an unsightly uneven gap and pulls uneven horizontally. Know what I mean?

I cannot afford new cabinets, which I would prefer, but I would like to somehow camouflage (or fix) the cheap/tacky look in my kitchen, particularly of the cabinet doors not fitting. Thinking of painting (or something) the cabinet drawers and doors with a color or pattern that would not draw the eye to the defects. Any ideas?

Oven and fridge are black, going to paint the stove top and d/w black, cabinets and wall are white, sink is yellow, and counter top is yellow marbled-look formica. Like to continue my rooster decor, which is currently only in the curtains and a strip of wall paper border in the adjoining 'family room', using dark reds, black, wheat, amber (yellow), etc. Floor is white patterned linoleum that I want to change because it's so cheap and easily bruised. It was probably just put in to sell the place.

Would appreciate any thrifty ideas.

Thanks.

Wondernana from Clovis, California
By Carolyn
Ad
---
Recent Answers
Here are the recent answer to this question.

By denilen foye02/24/2012
The ideas you provide will make a normal kitchen to a very elegant and handy kitchen for cooking lovers.

By Laura (Guest Post)04/22/2008
Hi,

Not sure if you updated your cabinets or not, but here is a link to what I did. I also attached a before pic.

http://www.thriftyfun.com/tf34996544.tip.html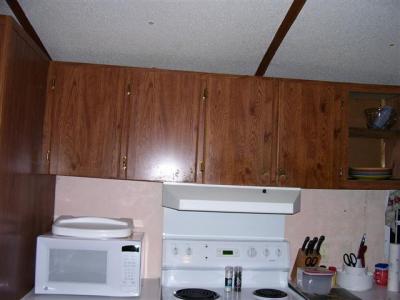 By Keeper [57]04/03/2008
Thanks for the"bead board"wallpaper look.Two other ideas for cupboard doors 1.that chalk board paint and 2.cork.
Thanks to all for these wonderful ideas.

By Carolyn [19]01/15/2008
Thanks for all these ideas. Hope to be able to put them to use soon. We're dealing with some issues at this time that preclude us from thinking about much of anything else but survival. But hope to be using some ideas here within the next year. I really do need someone like Koiflowers around with imagination and skills to get me started. Going to see if I can print these posts and keep them in hard copy until I can use them. Thanks again, everyone.

By Linda01/14/2008
My first post actually is below this one, but I wanted to post a second picture of the stove area.

I bought a 12" wide base cabinet and inserted in between the stove and the wall. The stove had always floated in the space and food and spills would run down the sides of the stove and onto the floor. The stove then wasn't centered under the overhead cabinets, so I asked my son to make a spice rack. Because I had run out of the countertop tile, I used a thick piece of pine from an IKEA table for the countertop over the new base cabinet.

I splurged and bought about $10 worth of slate mosaic tile for the backsplash behind the stove. We cut it into strips for an accent border, because I didn't have enough of the countertop tile, and I had bought every tile Lowe's had in stock.

When my son came home from work, he actually thought we had used real beadboard on the door and drawer fronts. He had to touch them before he would believe it was "just" wallpaper. My daughter-in-law is really happy with the results, and it only took a couple days to paint, paper, tile and grout.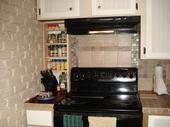 By Linda01/14/2008
I am posting two feedbacks so I can post two pictures. The kitchen in my son's house was the worst I'd seen in a long time. The cabinets doors were old, chipped and outdated and had missing doors. The counter tops were scarred and sections of the turquoise laminate had come loose and fallen off, probably back in the 70's. After a couple years, I asked my daughter-in-law if I could update her kitchen.

I went to Lowes (the only home improvement store in my small lake resort town in Texas) to get supplies. I found ceramic mosaic tile, and because random pieces were broken, I bought 12"x12" tile for the counter tops for $1 each. Then we cut out all chipped tiles and replaced them with unbroken pieces from "donor" tiles. I tiled right over the old laminate countertop. First, I clean with TSP, score and scratch the laminate to give the adhesive more tooth. I have tiled numerous countertops using this method and have never had a single tile come loose.

For the cabinets, we painted the frames and doors. Then I bought two rolls of thick, prepasted wallpaper that looked like bead board and we pasted it onto the door and drawer fronts and even pasted it onto the interiors of the cabinets so they would also look clean and fresh. I used a clear wallpaper paste for good adhesion and very sharp razor blades for clean cuts. This wallpaper is thick and highly scrubbable. I even tested it by using scouring powder on the surface and it wasn't damaged.

I used inexpensive white vinyl floor tiles to make the shelves of the upper cabinets look clean and new. Upper cabinets are 12" deep, so very little cutting was necessary.
You just peel off the paper and stick them down onto the old wood surface.

I then found door and drawer pulls on closeout for 43 cents each. For the backsplash I bought inexpensive tile to mix with the mosaic because I didn't have enough of the countertop tiles to do the entire project.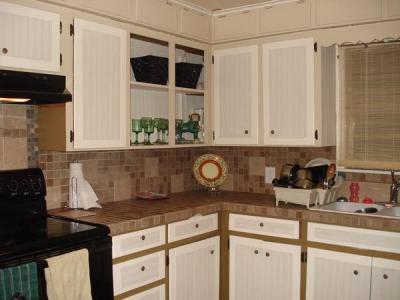 By wondernana (Guest Post)11/13/2007
I so appreciate all these ideas. Many thanks. Wondering how adhesive/foam on a roll could be used as suggested by denise w. Can anyone explain this to me?

By denise w (Guest Post)11/12/2007
Hi. I read your post and when I was at an auction the other night, bought some foam adhesive on a a roll. I thought this would really fit the bill on this problem. So if you still have the problem, go to the local hardware or walmart and ask for foam on a roll. What makes this so good is it has tape on it already and when the cabinets close there will be no gaps.

By Lynda [1]10/30/2007
MartyD's idea of open cabinets would be a great idea! Just take off the door hardware and fill the holes with wood putty. To stick with the rooster motif, get some wallpaper border with roosters on it and let your imagination run wild! Double faced tape and a pair of scissors would be the weapons of choice for that project. We spend a lot of time in our kitchens... We should be happy with them!

By Gertrude (Guest Post)10/30/2007
I recently fixed up my kitchen in my mobile home in Ocean Isle, NC and this is what I did. My walls are painted a light brown (paint is the cheapest decorating tool). I painted all my cabinets white (I had to prime first) and then took all my brass hardware and painted it black. My floors are a vinyl (but look like tiles) that I got as a remnant at Lowe's, and they are in a light brown/darker brown swirl. I collect strawberry items and my curtains have strawberries but there is a brown in the baskets that some of the berries are in. We kept our laminate countertop because of budget restrictions, but I cleaned it up and painted the edges white to match my cabinets. They look almost new. Use pictures from old magazines or even calendars that can be bought at dollar stores for art. You can even frame them to look more expensive. Nobody has to know! Have fun. It's your kitchen - do it your way!

By CArol in PA (Guest Post)10/30/2007
I agree with the previous post that you might be able to take off some of the doors to your cupboards. As she mentioned that is very stylish now. Also, I have had good luck with trading doors from one cupboard to another. So you might try that. Another idea I had was to hang a piece of pretty cloth to cover the opening of the cupboard that doesnt have a door. This is used in country style decorating which you already have implemented with your rooster theme. Search thrift shops for tablecloths or sheets you can use for this purpose. Perhaps even a dollar store tea towel would have a fresh look to it.

YOu can use sheets or other fabric to cover panelling if you like. You dip it in starch and hang it like wallpaper. Of course, the ridges will show anyway unless you are able to fill them.

By (Guest Post)10/30/2007
For the floor, you may want to consider the stick down linoleum tiles. They have come a long way in the past few years and can be applied right over the existing floor.

By Gertrude (Guest Post)10/30/2007
I alive in a mobile home in NC and I redid my kitchen. I painted all my cabinets white, and used black hardware that I had repainted from their original brass finish. I found, too, that some of the cabinet doors did not fit right when returned to their place. My husband adjusted the hinges a little and it worked. You can find art work really cheap. Look for outdated calendars or they can be bought at dollars stores. My countertops are a laminate and we are not able to redo them yet. so I just painted the edges a white like the cabinets and scrubbed the counters down and they look like new. Hope this helps.

By c_a_ss (Guest Post)10/29/2007
You can cover a lot of things with inexpensive contact paper and cut out roosters and place them on the walls cabinets etc. Also since the kitchens tend to be small three boxes of self stick tile would work great.

By (Guest Post)10/29/2007
I think it might be cute to find some fabric with a rooster pattern or the right colors and make curtains instead of the doors that don't square up.

By Marty Dick [152]10/28/2007
Would it be feasible to remove the doors which don't fit right? You see a lot of open cabinets on the shows on HGTV. Do you have a handy nephew or grandson who might come over and take them down and put them back so they will fit? As for the rooster decor you might want to incorporate some philodendron in rooster pots or even an indoor herb garden. Plants do wonders for a kitchen and don't cost a great deal. Sometimes I bum cuttings from friends and family. My husband and I are also SS recipients and have learned to pinch those pennies really hard.

Answer This Question
Add your voice to the conversation. Click here to answer this question.