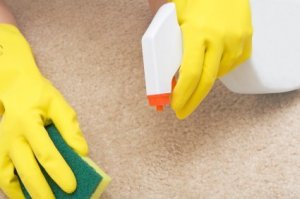 Vomit stains and odors can be difficult and unpleasant to remove from carpet. This is a guide about removing vomit stains from carpet.
Ad
---
Solutions: Removing Vomit Stains from Carpet
Read and rate the best solutions below by giving them a "thumbs up".
Try Windex on carpet stains. My husband taught me this and it really works
By AJCharee
Give a "thumbs up" to the solution that worked the best! Do you have a better solution? Click here to share it!
Questions
Here are questions related to Removing Vomit Stains from Carpet.
How do I remove dog vomit stains from my carpet?
By Janice
Ad
---
---
Most Recent Answer

By Charise03/29/2012
I have been amazed at how well plain old club soda works to clean up stains left by pets, including vomit. Clean up any solids first, then pour a little club soda on the stain. Let it set a few seconds, then use a rag (not paper towels) to scrub. If you still have a slight stain, repeat, and use some Oxyclean spray, and scrub again. Obviously, this works best on new stains.

I have been using this method for several years. Unfortunately, I have some aging animals with health problems and have had to use this method a lot lately.
Once a cat pukes on carpet and the carpet turns yellow (after only a few hours) is there any way to return the carpet to its original color? I've tried dish soap and water, and carpet cleaner. My new gray carpet still has yellow spots!
By Gayle from Lutsen, MN
Ad
---
---
Most Recent Answer

By Louise B. [5]07/27/2010
Is the carpet discolored from the cat food or from the cleaning process? If it is from the cat food, you should be able to get this out with a good quality carpet cleaner. If it is from the cleaning process (you mentioned the stains showed up later?) than you likely have a more difficult problem.

Just be sure NOT to use bleach. You'll get rid of the stains as well as the carpet color! Oh, and change brands of cat food to one that has less added color.
How do I get cat vomit out of a wool carpet?
By Alison from Scunthorpe, UK
---
Most Recent Answer

By Elizabeth10/26/2010
After lifting up the clumps, I use Resolve pet cleaner and a scrub brush in the cleaning aisle of your food store. It works for me and removes the smell and stain. Use in a corner first to see if it will effect the color of your carpet.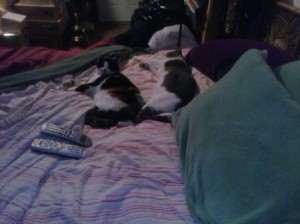 How do I remove stains on my carpet from my cats vomiting all the time? Also, how do I prevent them from constantly doing this? Please help. Thanks.
By baby doll
I need a sure-fire way to get this icky up-chuck stain off my newly-cleaned carpeting. I've blotted up the liquid, etc. Now I'm left with an icky stain. Help!
By Laurie
My daughter has a vomit stain on her carpet from the 2nd week in December. She has tried everything everyone has suggested. It doesn't smell, but the stain will not go away. She needs to get the stain out so she isn't charged for the stain when she moves out.
I thank you in advance for your advice.
By Kat
Now that the light has changed for the season, we are really noticing some pet stains in my roommate's room. She has white carpet and unfortunately the cats have the tenancy to throw up on it. Any idea on how to get out old cat vomit stains? This would be a great help.

Thank you.


By Sheri from NJ
Archives
Thrifty Fun has been around so long that many of our pages have been reset several times. Archives are older versions of the page and the feedback that was provided then.
I need advice! While babysitting, my friend's kid threw up all over the place. I am having the hardest time getting rid of the vomit smell in my carpet and my hair. I have tried everything on the carpet: soap and water, vinegar, CarpetFresh, Febreeze - nothing worked. Now it just smells like CarpetFresh AND vomit. I've washed my hair a number of times but can't get the smell out of there either. It's really awful. If I have to throw out the carpet, I will, but I don't want to cut off all my hair! Please help!

Anon from Brooklyn, NY
---
RE: Vomit Stain on Carpet
Sprinkle baking soda on the carpet. Let is sit there for a couple hours and then vacuum. Baking soda is the best at getting odors out of things. Just give it time to work. You may need to do this for a few times, but is should help. Note: If the vomit liquid got into the carpet backing, then it is more difficult and my not be possible to completely remove the smell. I wish you well in this. (12/24/2005)
By
RE: Vomit Stain on Carpet
The smell may not be in the carpet but in the padding underneath. My best suggestion is to take a utility knife and cut out the piece of carpeting, replace the padding underneath and after washing the carpet piece with plain old soap, like Ivory Flakes or grated Ivory soap, replace the piece into the hole like a puzzle piece. Merry Christmas! (12/24/2005)
By rabbithorns
RE: Vomit Stain on Carpet
I would recommend cleaning the carpet with a biological washing powder or liquid. This definitely works when treating any animal 'accident' smells even cat spray! (12/25/2005)
By emjclarke
RE: Vomit Stain on Carpet
If you have wood under your carpet padding, it may have soaked into the wood. Or it may just be the carpet itself, not sure check each place so you know what you should clean! Merry Christmas and a happy New Year!!! (12/25/2005)
By NO-SEW
RE: Vomit Stain on Carpet
Wow, thank you all for your kind and helpful advice. I tried baking soda, which worked well for a while, but a few hours later, the smell was back. After reading your comments, I checked and it looked like it had seeped through the carpet backing and into the floor! That's why nothing was working. Incidentally I would advise people not to buy CarpetFresh foam - the smell was offensive and just joined forces with the puke smell to make one invincible super-smell. I tried tomato juice and facial astringent on my hair today (I read they are last ditch resorts) and the smell is weakened but still there. I just hope that since it is weakening, the smell will eventually fade away. I ended up giving up and throwing out the carpet today. I recently redecorated and it didn't match my new color scheme anyway. But thanks again for all your replies. I'll sure think twice before babysitting again! Happy holidays everyone. (12/26/2005)
By Anon from Brooklyn, NY
RE: Vomit Stain on Carpet
Visit www.weardated.com to learn more about carpets made with Wear-Dated® carpet fiber including DuraSoft®, Traffic Control and ThermaSealed® Vomit Important - Always read and follow the care instructions and any warnings provided by the carpet manufacturer. Rugs and carpets with natural fibers and/or certain dyes may require special treatment. If in doubt contact a cleaning professional for advice/service. Also follow these General Rules for stain treatment. Remove as much of the stain as possible by using a spoon or dull knife. Blot up as much of the stain as possible with white paper towels. Neutralize by spraying the affected area with the ammonia solution (1 tablespoon of clear household ammonia and 1/2 cup of water). Care should be taken to remove all protein matter. Blot to remove excess moisture. Apply a small quantity of detergent solution to the spot. (To make the detergent solution mix 1/4 teaspoon of a hand dish washing detergent which does not contain lanolin or bleach with 1 quart of water; examples of safe detergents are Dawn® and Joy®.) Use a blotting motion to work the detergent into the affected area. If spot is being removed continue applying detergent and blotting with a white paper towel until spot is removed. Rinse with tap water using a spray bottle, blot to remove excess moisture. Spray lightly with water, do not blot this time; apply pad of paper towels and brick and allow to dry. If there is still some stain on the carpet and blotting is not removing it, then moisten the tufts in the stained area with 3% hydrogen peroxide. Let stand for on (1) hour. Blot and repeat until carpet is stain free. Light will cause peroxide to change back to water so no rinsing is necessary. Apply pad of paper towels and weight down with brick. (12/28/2005)
By
RE: Vomit Stain on Carpet
I have found that Head and Shoulders Shampoo gets rid of the smell of vomit as well as the smell of skunk on a long haired dog. (12/28/2005)
By Debi K
RE: Vomit Stain on Carpet
I'm not sure what to tell you about your hair, but I would suggest renting some sort of industrial type cleaning machine for carpets to do the best job. You can either hire a professional company or you can rent the machines are do it yourself for much less. (12/29/2005)
By Robin
RE: Vomit Stain on Carpet
I have had excellent success with the pet stain/odor products "Nature's Miracle" and "Kids and Pets" in dealing with extensive vomit stains in carpet. You should make sure that you don't have a real, finished wood floor (like parquet) under the carpet -- if you do, you won't be able to use the large quantity of the above cleaners to completely soak the stain, without risking damage to the floor; if it is a standard plywood sub floor, you should be ok. First, make sure that any solid bits are removed. I would then very liberally soak the stain; let it sit for a half hour then either blot it up with towels, or if large, rinse it out with a "wet" carpet cleaner/vacuum (I have a Bissell). If this doesn't completely work, repeat the process. (12/29/2005)
By MP in Michigan
RE: Vomit Stain on Carpet & hair
I have extra long hair--to my knees--and I went through a similar experience. You'll need to get the smell out of your nose too because the smell may be gone but for some reason extra sensitive noses can still smell it. Here's what I did, I washed with Purell Shampoo to which I added baking soda. Then I made a paste of baking soda and water and loaded it onto my hair and scalp---put a plastic shower cap or hair color cap on and wear it all night or for several hours. Wash your hair again with a shampoo to which you've added baking soda and rinse out. You might have to do this twice. It worked for me and I even used this method on the carpet. I buy the Purell shampoo at Dollar General or Family Dollar. Best of luck! (12/31/2005)
By anonymous friend
RE: Vomit Stain on Carpet
I would use vinegar on the carpet. I would pour enough on the carpet to saturate the stained area, let it sit for a minute and then put towels over the area and step on them. If any stain is left, wipe the stain with baby wipes. I have always had luck getting stains out with wipes. (01/08/2006)
By Ann4
I have a cat who has been throwing, which then leads to a stain in the carpet.