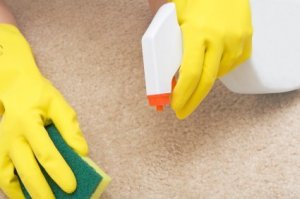 Vomit stains and odors can be difficult and unpleasant to remove from carpet. This is a guide about removing vomit stains from carpet.
Ad
---
Solutions: Removing Vomit Stains from Carpet
Read and rate the best solutions below by giving them a "thumbs up".
Try Windex on carpet stains. My husband taught me this and it really works
By AJCharee
Give a "thumbs up" to the solution that worked the best! Do you have a better solution? Click here to share it!
Questions
Here are questions related to Removing Vomit Stains from Carpet.
How do I remove dog vomit stains from my carpet?
By Janice
AnswerWas this interesting? Yes No
Ad
---
---
Most Recent Answer
By Charise 9 03/29/20120 people found this helpful
I have been amazed at how well plain old club soda works to clean up stains left by pets, including vomit. Clean up any solids first, then pour a little club soda on the stain. Let it set a few seconds, then use a rag (not paper towels) to scrub. If you still have a slight stain, repeat, and use some Oxyclean spray, and scrub again. Obviously, this works best on new stains.

I have been using this method for several years. Unfortunately, I have some aging animals with health problems and have had to use this method a lot lately.
---
Once a cat pukes on carpet and the carpet turns yellow (after only a few hours) is there any way to return the carpet to its original color? I've tried dish soap and water, and carpet cleaner. My new gray carpet still has yellow spots!
By Gayle from Lutsen, MN
AnswerWas this interesting? Yes No
Ad
---
---
Most Recent Answer
By Louise B. 6 2,532 07/27/20100 people found this helpful
Is the carpet discolored from the cat food or from the cleaning process? If it is from the cat food, you should be able to get this out with a good quality carpet cleaner. If it is from the cleaning process (you mentioned the stains showed up later?) than you likely have a more difficult problem.

Just be sure NOT to use bleach. You'll get rid of the stains as well as the carpet color! Oh, and change brands of cat food to one that has less added color.
---
How do I get cat vomit out of a wool carpet?
By Alison from Scunthorpe, UK
AnswerWas this interesting? Yes No
---
Most Recent Answer
By Elizabeth 200 10/26/20100 people found this helpful
After lifting up the clumps, I use Resolve pet cleaner and a scrub brush in the cleaning aisle of your food store. It works for me and removes the smell and stain. Use in a corner first to see if it will effect the color of your carpet.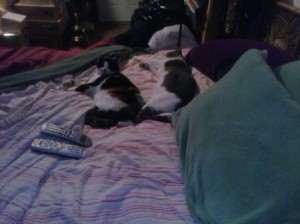 How do I remove stains on my carpet from my cats vomiting all the time? Also, how do I prevent them from constantly doing this? Please help. Thanks.
By baby doll
I need a sure-fire way to get this icky up-chuck stain off my newly-cleaned carpeting. I've blotted up the liquid, etc. Now I'm left with an icky stain. Help!
By Laurie
My daughter has a vomit stain on her carpet from the 2nd week in December. She has tried everything everyone has suggested. It doesn't smell, but the stain will not go away. She needs to get the stain out so she isn't charged for the stain when she moves out.
I thank you in advance for your advice.
By Kat
Now that the light has changed for the season, we are really noticing some pet stains in my roommate's room. She has white carpet and unfortunately the cats have the tenancy to throw up on it. Any idea on how to get out old cat vomit stains? This would be a great help.

Thank you.


By Sheri from NJ
Archives
Thrifty Fun has been around so long that many of our pages have been reset several times. Archives are older versions of the page and the comments that were provided then.

I have a doxy and she was sick for a couple of days. Can anyone suggest how to get stain out of carpets? It is Beige carpet. She is fine now, the vet said it was just a flu like thing. Thanks.

Sherin from Ontario, Canada
Answers:
RE: Removing Vomit Stains From Beige Carpet
Try Shout laundry stain remover. Test a spot that is not seen, then try it on the stain. That is what I'd do. Hope it helps. Angie (08/20/2008)

By auguissette
RE: Removing Vomit Stains From Beige Carpet
Get "Resolve Carpet Cleaner for Pet Stains." Sure worked for me! (08/21/2008)

By connie w.
RE: Removing Vomit Stains From Beige Carpet
I found a "new to me" carpet cleaner is Folex. It may be purchased at Wal-Mart, where I got mine, Home Depot as well as Lowes. My hubby took stains out of our carpet that we didn't know what they were. It also works on upholstery as well as clothing. A friend of mine said she got out an old stain out of her hubby's shirt. So it works. Hope it does for you too.
Linda from PA (08/21/2008)

By quickcooker
RE: Removing Vomit Stains From Beige Carpet
I use vinegar water or often just warm water, and my wet-dry vacuum helps me really pull the dirty water out of the deepest layers. No matter what cleaner, you gotta get it all up. (08/21/2008)

By kimhis
RE: Removing Vomit Stains From Beige Carpet
I have had 2 cats for 15 yr and they continue to vomit on my beige carpet weekly. Here is my true blue never fail homemade carpet cleaner. (These ingredients will make about 1 yrs worth of cleaner.)You'll need:
Spray bottle
Liquid Oxycleaner stain remover (I used to use
powder but this works MUCH better)
Liquid SHOUT gel
Liquid colored bleach.
Mix equal parts of each cleaner (it really depends on the size of your spray bottle but I normally do a little less than 1/4 c each). Fill with hot water. Shake gentle.

Spray on the stain and wait a minute or two. Then spray once more and scrub. BEAUTIFUL! If you get a soapy result, you have too much cleaner and need to water it down some.
(09/30/2008)

By Char
I have a cat who has been throwing, which then leads to a stain in the carpet. We have a Bissell pet spot remover and we have tried other Bissell products to get the stains out and nothing seems to work. I was wondering if anyone had any other suggestion.

Danielle from Orlando, FL
Feedback:
RE: Removing Vomit Stains On Carpet
Try these steps:
Scrape up solids with a spoon or dull knife. Blot up as much of the stain as possible with white paper towels.
Neutralize the stain by spraying the area with a solution of 1 tablespoon ammonia and 1 cup warm water. Do not use ammonia solution on wool carpets! Just skip down to the next step.
Sponge the area with a solution of 1 teaspoon mild, non-alkali detergent and 1/2 pint lukewarm water. Continue to apply detergent and blot with paper towels until the stain is removed.
Once the stain is removed, spray lightly with water. Place an absorbent pad over the damp area and weigh it down with a heavy object. When no more liquid is absorbed, remove the pad and allow carpet to thoroughly air dry.
If an odor remains after the area is dried, sprinkle the area with baking soda. Let it sit for a couple of hours, then vacuum.
source: http://blogs.findanyfloor.com/consumer/CareAndMaintenance/RemovingVomitFromCarpet.xhtml (10/16/2008)
By Ken
RE: Removing Vomit Stains On Carpet
I had the same problem with my cat and my dog. They always seemed to get sick on my beige carpeting. Faithfully I use Woolite Carpet Cleaner with OxiClean in it. I really saturate the spot and it has worked every time. Even when my dog got some "dodo" on the beige carpeting. Good luck! (11/08/2008)

By MLP89
RE: Removing Vomit Stains On Carpet
I have found that you let the stain dry if possible. Then dab a bit of 91% rubbing alcohol on a white rag and gently rub the carpet. Keep rubbing onto stain until gone The 91% rubbing alcohol works much much better than the 70% kind, so be careful to buy the correct formulation. Hope this helps. Qwner of 5 cats! (12/04/2008)

By Janine
RE: Removing Vomit Stains On Carpet
I have white carpet and use straight hydrogen peroxide on the stain and it works almost every time. Some dry cat foods leave a faint yellow stain so I'm going to try the shaving cream suggestion to see if that works. (02/10/2010)

By freebiedee
I had my six month old Basset Hound named Howlie spayed this past Monday. When she was brought home from having surgery later that day she was pretty sick from the anesthesia.