Vomit stains and odors can be difficult and unpleasant to remove from carpet. This is a guide about removing vomit stains from carpet.
By AJCharee 1
Try Windex on carpet stains. My husband taught me this and it really works
By AJCharee
How do I remove dog vomit stains from my carpet?
By Janice
---
Most Recent Answer
March 29, 2012
I have been amazed at how well plain old club soda works to clean up stains left by pets, including vomit. Clean up any solids first, then pour a little club soda on the stain. Let it set a few seconds, then use a rag (not paper towels) to scrub. If you still have a slight stain, repeat, and use some Oxyclean spray, and scrub again. Obviously, this works best on new stains.
I have been using this method for several years. Unfortunately, I have some aging animals with health problems and have had to use this method a lot lately.
---
Once a cat pukes on carpet and the carpet turns yellow (after only a few hours) is there any way to return the carpet to its original color? I've tried dish soap and water, and carpet cleaner. My new gray carpet still has yellow spots!
By Gayle from Lutsen, MN
---
Most Recent Answer
By Louise B. 6 2,509 Flag
July 27, 20101 found this helpful
Is the carpet discolored from the cat food or from the cleaning process? If it is from the cat food, you should be able to get this out with a good quality carpet cleaner. If it is from the cleaning process (you mentioned the stains showed up later?) than you likely have a more difficult problem.
Just be sure NOT to use bleach. You'll get rid of the stains as well as the carpet color! Oh, and change brands of cat food to one that has less added color.
---
How do I get cat vomit out of a wool carpet?
By Alison from Scunthorpe, UK
---
Most Recent Answer
October 26, 2010
After lifting up the clumps, I use Resolve pet cleaner and a scrub brush in the cleaning aisle of your food store. It works for me and removes the smell and stain. Use in a corner first to see if it will effect the color of your carpet.
By baby doll 1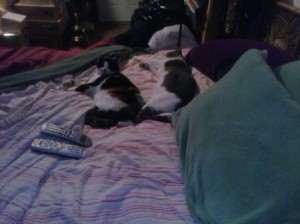 How do I remove stains on my carpet from my cats vomiting all the time? Also, how do I prevent them from constantly doing this? Please help. Thanks.
By baby doll
I need a sure-fire way to get this icky up-chuck stain off my newly-cleaned carpeting. I've blotted up the liquid, etc. Now I'm left with an icky stain. Help!
By Laurie
By Kat 4
My daughter has a vomit stain on her carpet from the 2nd week in December. She has tried everything everyone has suggested. It doesn't smell, but the stain will not go away. She needs to get the stain out so she isn't charged for the stain when she moves out.
I thank you in advance for your advice.
By Kat
Now that the light has changed for the season, we are really noticing some pet stains in my roommate's room. She has white carpet and unfortunately the cats have the tenancy to throw up on it. Any idea on how to get out old cat vomit stains? This would be a great help.

Thank you.


By Sheri from NJ