If you have seen that commercial on the carnival cruise, which they show a dog made of towels. I would really like to know how to do that. Does anyone have instructions?

Thanks,
Carol from Chicago, IL
Recent Answers

By King (Guest Post)10/10/2007
I've been asking the same question, ever since I checked out this book from the library. It's called Gifts Kids Can Make. I learned how to make a bunny out of it. So maybe if you'd like to learn something because you're waiting for instructions for the dog, you could see if the author has a website and make one from there. The bunny is very easy, took me less than 10 minutes.
Good luck. :)

By King (Guest Post)10/10/2007
I've been asking the same question, ever since I checked out this book from the library. It's called Gifts Kids Can Make. I learned how to make a bunny out of it. So maybe if you'd like to learn something because you're waiting for instructions for the dog, you could see if the author has a website and make one from there. The bunny is very easy, took me less than 10 minutes.
Good luck. :)

By lingam (Guest Post)09/12/2007
they r nice

By Lynne Sherlund-Dupuis (Guest Post)07/08/2007
The Book onboard is $12.95 - on ebay it is a minimum of $20 PLUS shipping BUT Carnival ONLY sells it onboard to passengers.... so factor in the cost of the cruise... When I was on a Carnival Ship I was told the book was NOT available, try taking ANOTHER CRUISE..... good luck

By Sarah S (Guest Post)03/14/2007
I also suggest the towel folding DVDs mentioned below. Have both volumes and love them. Was able to make all the things on there without any trouble. He gives great ideas on the first volume as far as what towels to buy, etc. Hope this helps!
Sarah

By Chris (Guest Post)02/27/2007
Here's a free video. Just gotta take a quick survey.

http://www.EasyTowelAnimals.com

Hope this helps.

By Towel Origami (Guest Post)02/17/2007
Try http://www.foldingmagic.com for DVDs on towel folding. They teach you how to make a puppy and a lot of other things.

By karen (Guest Post)09/30/2006
go to ebay & type towel creations

By Lisa M Garcia (Guest Post)08/05/2006
I HAVE NOT FOUND HOW TO MAKE THE DOG BUT IF I DO I WILL SHARE WITH YOU. I AM GOING TO CONTACT THE CRUISE LINE HERE IN SOUTH FLORIDA I LIVE NEAR THE SEA PORT. SEND ME YOUR E-MAIL ADDRESS @ ONEDRIFTER AT GMAIL.COM I WOULD LOVE TO HELP A FELOW CHICAGOIAN I WAS BORN AND RAIS IN OAK LAWN ILLINOIS.
THANKS
LISA

By Myriam (Guest Post)06/16/2006
Hi,

I did a page on animals towels
http://membres.lycos.fr/myriamn/towelorigami.html

If you want a few instructions

http://membres.lycos.fr/myriamn/towelinstructions.html

The book
Towel Folding 101: Discover the Wonderful World of Towel Origami
by Deanna Campbell
is the best.

i bought the three books on this subject.

Thanks,
Myriam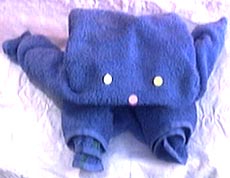 By ken (Guest Post)05/26/2006
they offer a book to tell you how - check this link:

http://www.carnival.com/BonVoyage/AddToCart.aspx?pid=7F7

By Kelly [15]05/14/2006
That brings back memories, there was a nice restaurant in Key West were a waiter made me a napkin rabbit when I was 4 or 5 years old.....never thought about it until I saw this post...thanks!

By siampayne (Guest Post)05/14/2006
read in the paper today about the towel animals...HOWEVER, was considering it as a gift for a 9 year old and the 'review' that suggested I needed to learn 'martian' before reading the book put me off...I can't even find the pause button on my DVD player....anyone else have first hand esperience with Towel Creations? siampayne AT hotmail.com

By Carol Stanton (Guest Post)04/21/2006
If you still want the book after reading about it in prior comments, there are 4 currently available on eBay. Search for "Carnival Towel Creations".

By Peeksdad (Guest Post)04/02/2006
I have the book from Carnival on Towel creations. It is the worst book ever published. They show some really neat creations but the instructions would be clearer if they were written in Martian and illustrated by someone from Venus. I have literally spent hours trying to decipher what they are trying to say. Don't even think of buying the book unless you have the patience of Job and are not prone to high blood pressure!

By Susan Sanders-Kinzel [9]02/07/2005
I am trying to find out some information on how to make different animals out of dish towels. Example, someone had made a bunny out of two or three dish towels and I have seen a dog or a pig made out of dish towels on a cruise commerical. Does anyone know where I can get the directions? Thanks!

Ruth from Taylorsville
Answers:
RE: Making Animals Out Of Towels
Post by gardenlady58102
Do a search for "free towel crafts" and it will take you to a couple of craft sites with the directions :0) gardenlady
RE: Making Animals Out Of Towels
Dave Riney (Guest Post)
Hello! My name is Dave and I am from downtown Chicago. I too was curious as to how to make these animals. I saw a dog towel tonight on a carnival cruise ship commercial and so I went to their website. If you want to buy the book on how to make all sorts of different wildlife and domestic animals. It is $12.95 and all you have to do is call 1 888 C A R N I V A L. Have a good one Jane. Cheers!
RE: Making Animals Out Of Towels
Jessie Maness (Guest Post)
I just got back from a Carnival cruise and forgot to get the animal towel book. I called to get a copy of it, but unfortunately they don't sell them after the cruise.
RE: Making Animals Out Of Towels
Kathy Rudd (Guest Post)
Wash cloth cat & Dog

try http://home.inreach.com/marthac/craft2.html

Bridal Shower Towel Cake

SuperWeddings
RE: Making Animals Out Of Towels
Kathy Rudd (guest) (Guest Post)
Previous Site mentioned in feedback" Al's Towel animals comes up now as page not available, try

http://homepage.mac.com/wysz/towels.html

Previous feedback about towel animals.....

It's till listed as Al's Towel Animals-just pictures no instructions...but once your rolling towels it shouldn't be hard to figure out by looking at the pictures.

Also, try Wash Cloth Cat & Dog site:
RE: Making Animals Out Of Towels
Elaine (Guest Post)
cute animals to make out of towels and washcloths for baby shower
RE: Making Animals Out Of Towels
Post by Smurfette63
This is the only thing I found on the subject .
Answer This Question
Add your voice to the conversation. Click here to answer this question.